​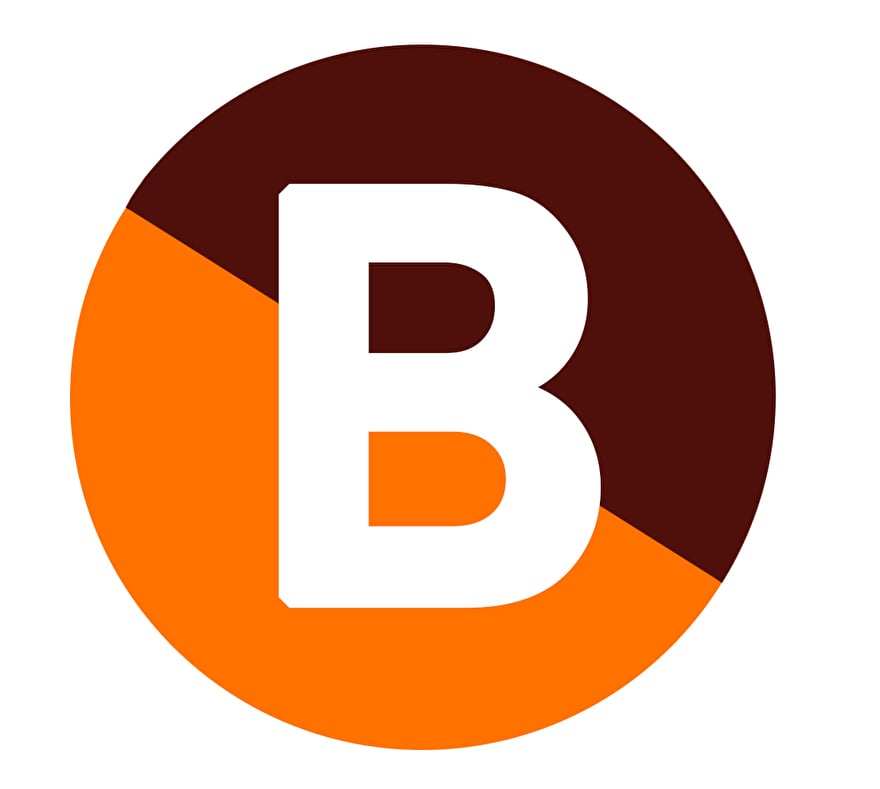 ​​"Spinnerbait tijd"
Het roofvisseizoen is weer begonnen, het zonnetje begint met schijnen en de waterplanten beginnen weer als vanzelf te groeien en sommige wateren helemaal te overwoekeren. Met andere woorden: het is weer de hoogste tijd om je spinnerbaits af te stoffen en ze aan je leader te knopen.
Inmiddels voeren we een fors assortiment spinnerbaits van diverse merken en diverse maten en altijd wel geschikte formaten voor baars. Maar let op: vis ze ALTIJD snoekproof want vriend snoek is er absoluut ook niet vies van. Gebruik hier bijvoorbeeld het inmiddels bekende Knot2Kinky voor.
Hieronder zal ik een deel van ons assortiment uitlichten zodat je wellicht wat meer op de hoogte bent van deze goldie oldies (in een nieuw jasje)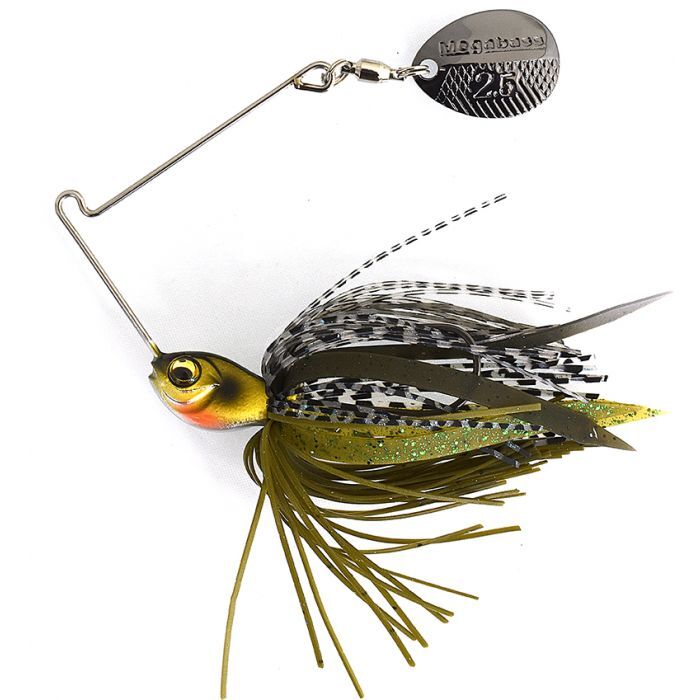 Zoals je van Megabass mag verwachten, is deze spinnerbait ook gemaakt van de meest hoogwaardige materialen.
De draadarm is wellicht iets dikker dan dat je gewend bent van andere merken maar dit zorgt er absouut niet voor dat de aktie minder is. Sterker nog, de wat dikkere draad zorgt ervoor dat deze minder snel verbuigt wanneer een forse snoek de spinnerbait aanziet voor een lekker hapje. De draadarm is ook in een dusdanige positie geplaatst dat, wanneer je stopt met binnendraaien, de spinnerbait iets naar voren kantelt wat, door de onverwachte beweging, meer aanbeten zal op leveren. Stop en go is dus voor deze spinnerbait dé manier van binnenvissen. Zoals je verwacht van alle hardbaits van Megabass, blijft ook de SV-3 spinnerbait bij hoge inhaalsnelheden kaarsrecht door het water lopen. Verkrijgbaar in verschillende gewichten en met diverse spinnerbladen, zowel enkel als dubbel
Lunkerhunt Impact spinnerbait: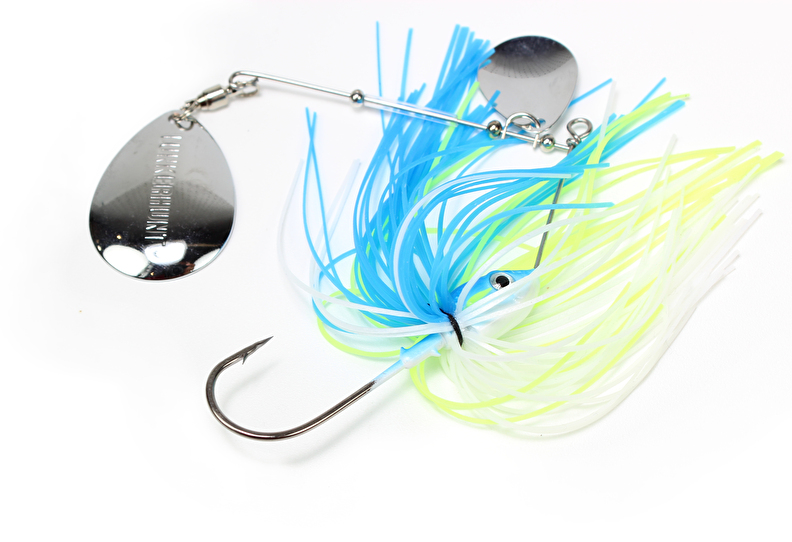 Door het gebruik van 2 forse spinnerbladen en een forse skirt doet deze spinnerbait van Amerikaanse makelij wat veel Amerikanen ook doen; herrie maken! Dus, wanneer wilt dat je spinnerbait als searchbait dient om actieve vissen te vinden en extra opvalt in bijvoorbeeld druk bevist water, is dit jouw aas! Voorzien van een stevige haak is ook een snoekaanval geen enkel probleem voor deze spinnerbait. Met 14 gram een ietwat zwaardere spinnerbait in ons assortiment.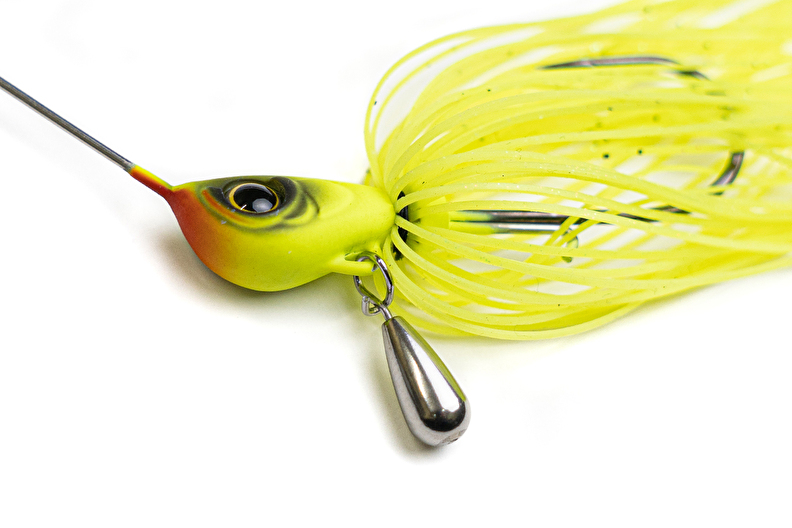 Wat ik zo ontzettend gaaf vind aan het Japanse merk Kaesu is dat al hun kunstaas een unieke eigenschap heeft. Zo heeft de Kaesu Ranka verstelbare spinnerbladen én zit er een gewicht bij die je aan de kop van de spinnerbait kan hangen zodat je hem kan verzwaren van 10,5 naar 14 gram.. Heb je dat ooit bij een ander merk gezien? Dacht het niet hè. Veel spinnerbaits hebben een open oog waar je je leader aan verbindt maar Kaesu heeft bij de Ranka besloten een dicht oog te maken zodat je leader nooit meer de spinstang op glijdt bij het inwerpen. Wil je exact weten hoe de verstelbare spinnerbladen werken? Check dan hier onze uitgebreide produktomschrijving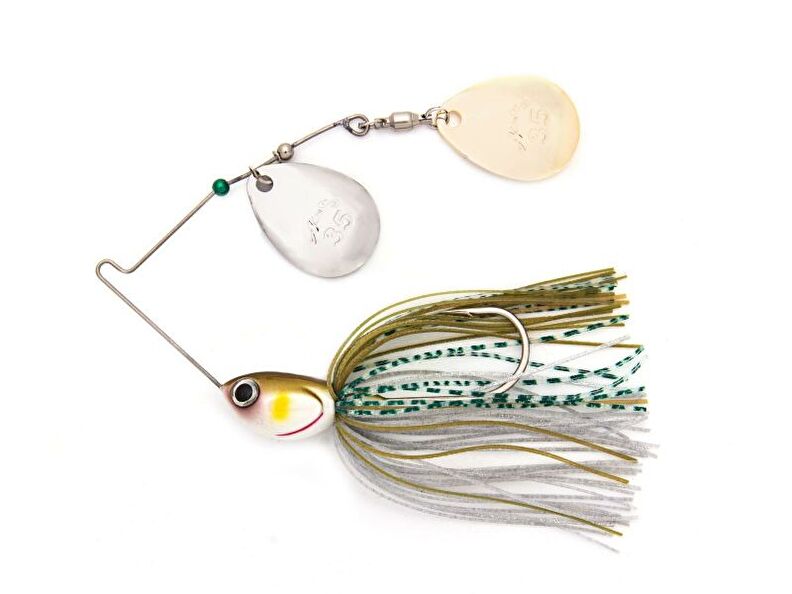 We hebben van dit Japanse topmerk meerdere spinnerbaits in ons assortiment maar de Wind Range wil ik er hier even uitlichten. Deze spinnerbait is namelijk speciaal ontworpen om te vissen in bijzonder winderige omstandigheden. Het compacte volume maakt het gemakkelijk om hem met zijwind of zelfs tegen de wind in te werpen.
De licht gebogen arm zorgt bovendien voor een stabiele loop tijdens het binnenvissen. Om de windweerstand zo laag mogelijk te houden, is de skirt van de spinnerbait extra ingekort, in tegenstelling tot andere modellen.
Uiteraard kan je alle spinnerbaits zo, rechtstreeks uit de verpakking vissen. Maar gebruik ook eens een softbait als trailer op de haak voor extra aantrekkingskracht en extra weedless vissen tussen de planten. Bijvoorbeeld een Keitech Easy Shiner, een Z Man Razor ShadZ of een 6th Sense Stroker Craw. Je kan het zo gek niet maken!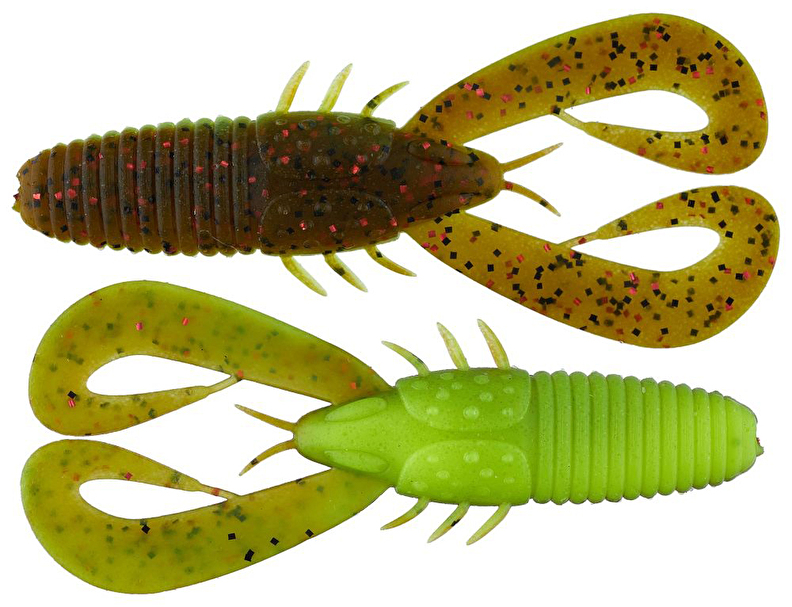 6th Sense Stroker Craw, een geweldige spinnerbait trailer
Ook kan je de zogenaamde "hookup ratio" vergroten door op de enkele haak een extra trailer haak te zetten. Wij hebbben de trailerhaken van VMC op voorraad.
Succes en tot aan de waterkant!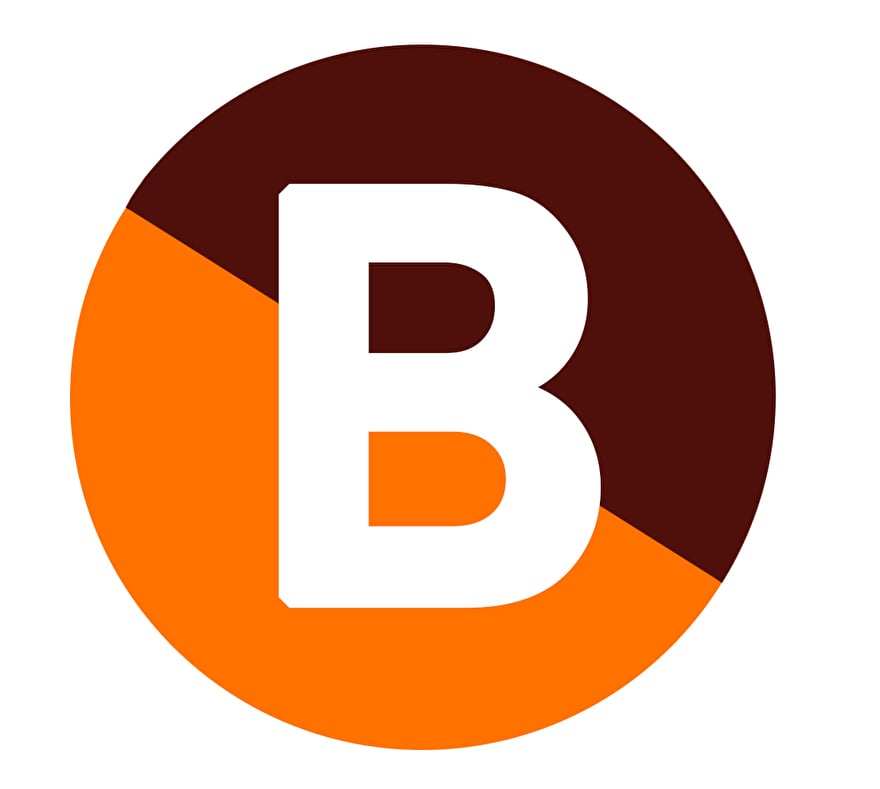 Don't Fish The Mainstream!
Instagram
Voor de dikste vangstfoto's volg je ons ook op Instagram: @baitnationnl