​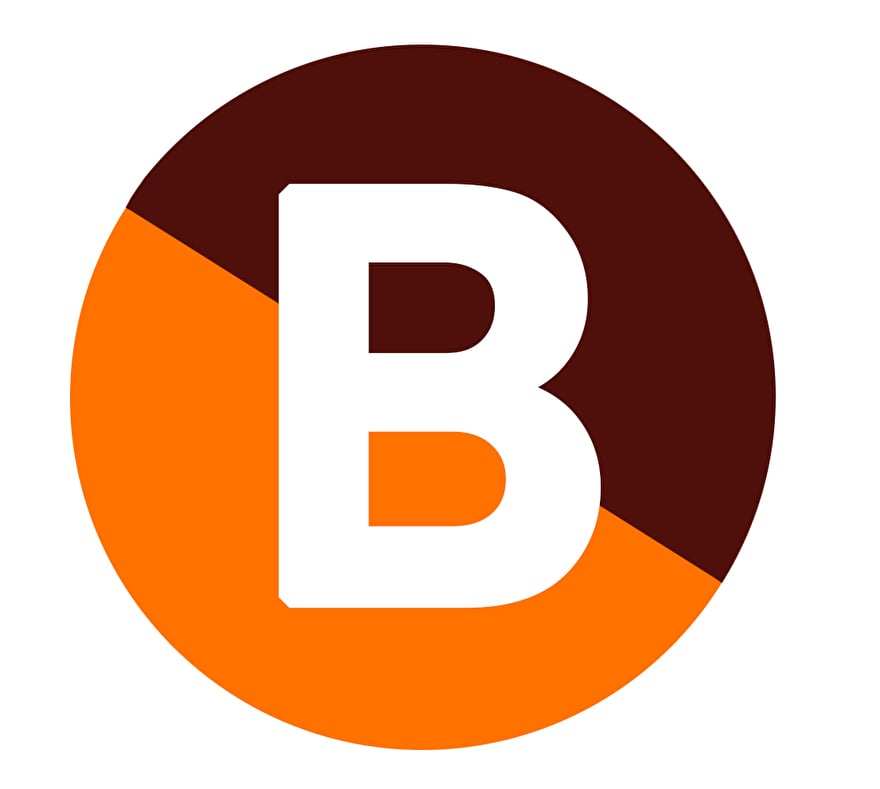 Oktober 2022...de herfst heeft nu echt zijn intrede gedaan. Wind, regen en de kelderende temperaturen die daarbij horen zijnmeer regel dan uitzondering.
De weersomslag is voor de roofvissen hét signaal om zich vol te gaan vreten voor de winter. Al ben ik zelf meer een mooi weer visser, toch is dit toch wel de periode om oa hele mooie dikke baarzen te vangen.
De laatste tijd liepen de vangsten, als het gaat om grote baars, wat terug. wel heleboel kleine baars, tot plm 25 cm, wat zich vergreep aan bv de 2,5" Megabass Rock Hog, de 2,5" Z Man Slim SwimZ of de 3,75" Z Man StreakZ maar na de zoveelste sessie met tig kleine baars, was ik daar wel een beetje klaar mee zeg maar.

Om wat selectiever op grote baars te gaan vissen ben ik de afgelopen sessies heel bewust met grotere aasjes aan de slag gegaan. MIjn keuze viel op de 3,8" Megabass Dark Sleeper en de 5,75" Bang StickZ van Z Man.
Nu hoor ik je al denken; 3,8" Dark Sleeper, das toch niet heel groot? Nee klopt, 9,5 cm (3,8") valt in lengte best mee maar vergelijk het met de 2,4" dan is dit best een forse opschaling in maat en vooral volume; De Dark Sleeper een behoorlijk fors profiel waardoor je de kleine baars er echt wel uitfiltert.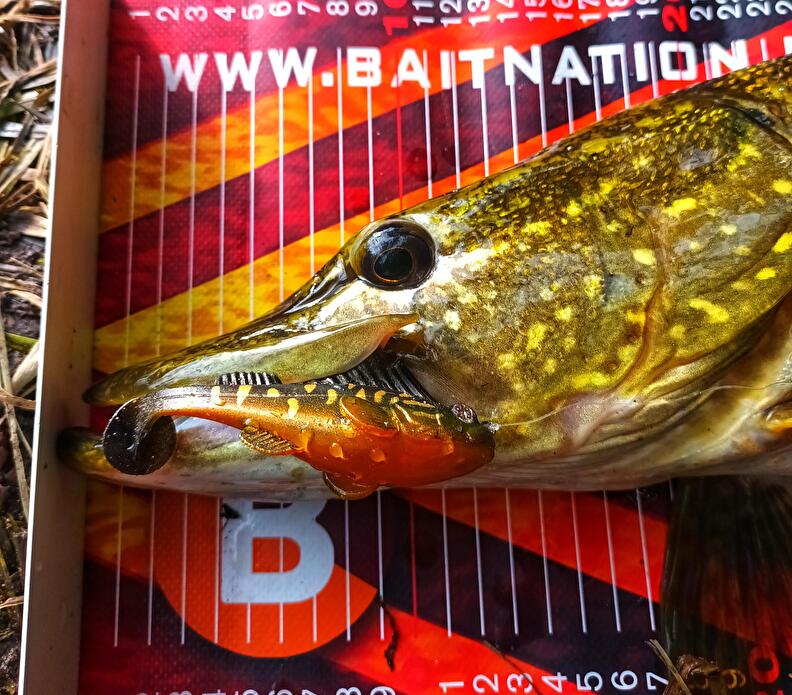 Megabass Dark Sleeper en een snoek van exact 80 cm.
Dit geeft wel een beeld van het formaat van de 3,8" Dark Sleeper
De 5,75" Z Man Bang StickZ heb ik met een 3/0 decoy offset haak aan de Texas Rig gevist. Door het hoge drijfvermogen van de Z Man aasjes staan ze, zoals inmiddels al wel bekend, heel mooi rechtop. Doordat ik hem nu aan de Texas Rig viste kon ik hem heel mooi "zwevend" boven de bodem aanbieden.
De resultaten waren deels verrassend en deels zoals ik wel had verwacht.
De eerste sessie heb ik gevist met de 3,8" Megabass Dark Sleeper. Deze weegt ook nog eens zo'n 21 gram, echt wel een fors aasje dus. De resultaten waren echt bizar goed; 2 hele mooie baarzen van ruim in de 40 cm waarvan 1 van 49 cm! Daarnaast nog een snoek van excact 80 cm en dit in een korte middagsessie van een uurtje of 2. Alle vissen beten toe toen ik de softbait een aantal seconden stil op de bodem liet liggen.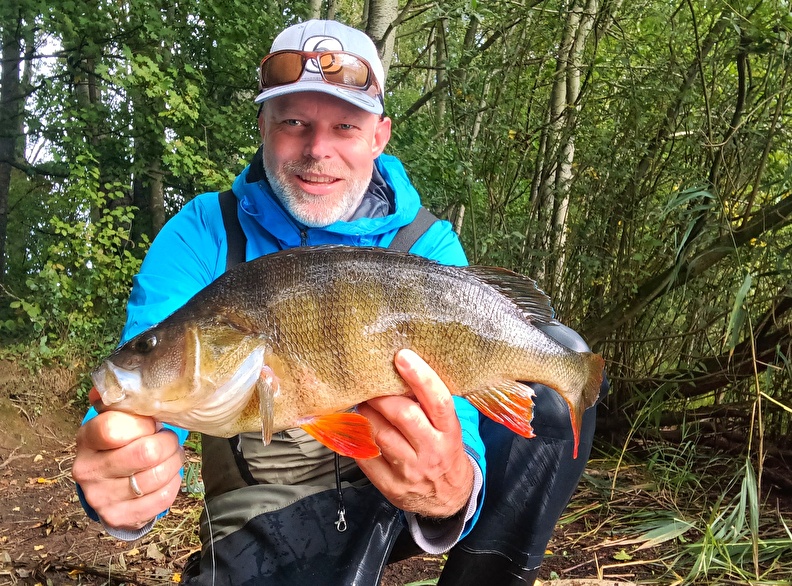 Selectief vissen op grote baars (49cm).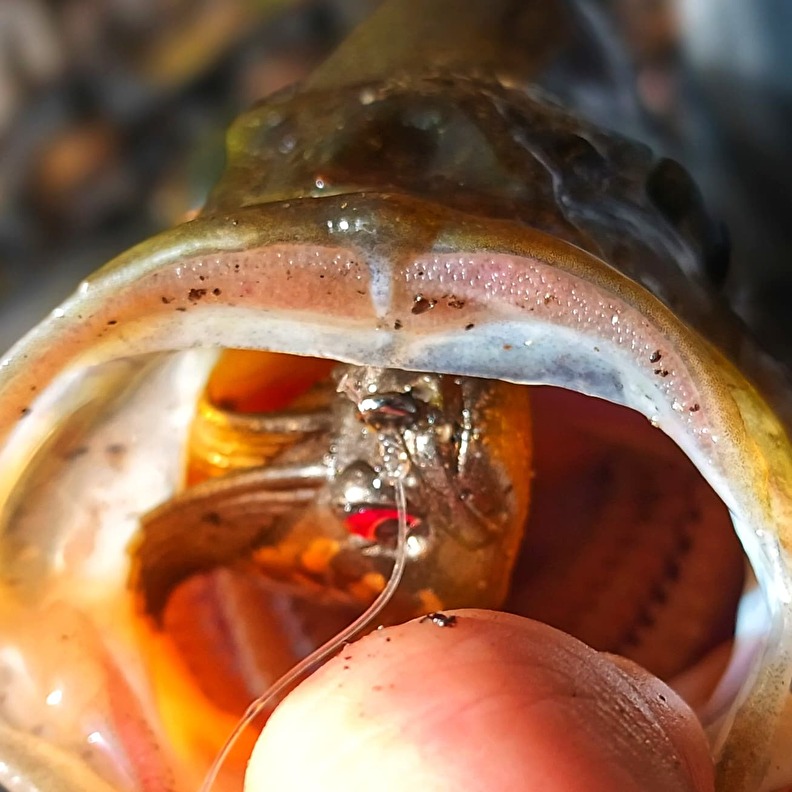 Hebben ze moeite met grotere volumes? Neuh niet bepaald.
Maar de kliene baarsjes laten hem voorbij gaan zodat je veel selectiever vist
De volgende sessie ben ik gaan vissen met het grote broertje van de Z Man TRD TicklerZ; de 5.75" Z Man Bang StickZ dus.
Een totaal ander aasje dan de Dark Sleeper maar omdat ik eerder veel kleine baars ving aan de 4" Z Man Finesse WormZ, viel de keuze op deze wormachtige softbait.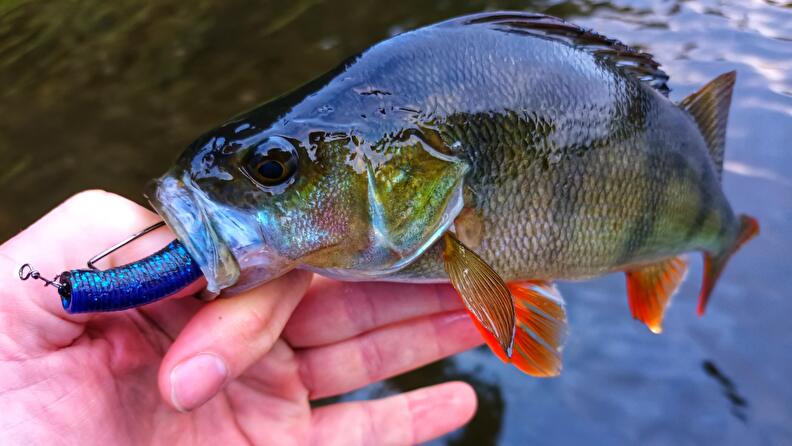 And it's gone...hier zit dus gewoon ruim 14,5 cm softbait in...
Ik ging ervan uit hiermee de kleine baars eruit te filteren. Nou de echt kleine baars tot een cm of 20 vielen merendeels wel af en ik ving een grotere baars van ongeveer 35 cm. Maar zelfs baarzen tot een cm of 30 vielen de Bang StickZ aan alsof het niks was en deze zat ook meerdere keren volledig geïnhaleerd diep in de bek.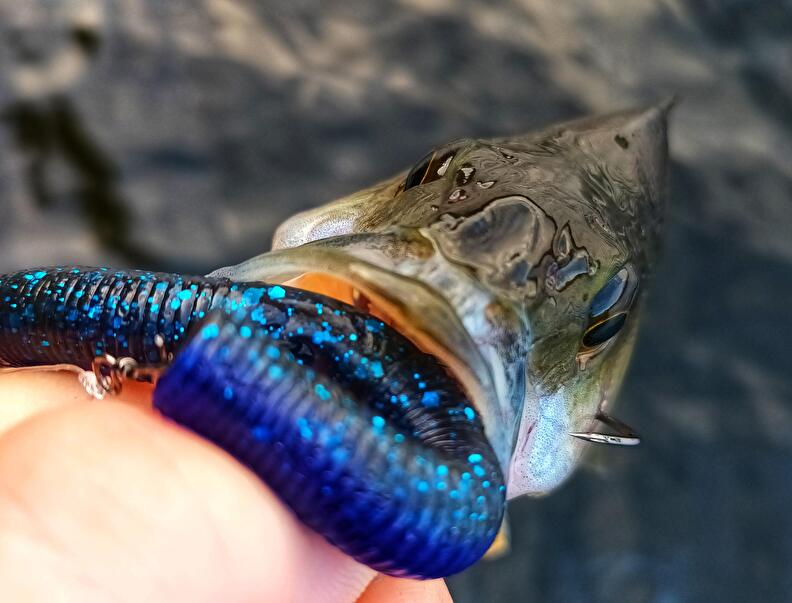 cm of 25 baars en bijna 15cm Bang StickZ...
Voorzichtige conclusie: met groter aas vang je zeker grotere vis maar het ligt er wel aan welk volume je softbait heeft; lang en relatief dun, daar heeft kleine baars geen enkele moeite mee (zeker niet in deze tijd van het jaar). Met softbaits met meer volume (zoals dus de 3,8" Dark Sleeper) filter je echt de kleine vissen eruit en vis je gericht op grote vis! Mooie theorie om de komende weken eens verder uit te testen.
Succes de komende tijd en pak een bak!
Ohja...heb je jezelf al toegevoegd aan onze BaitNews app groep? We gaan je hier nog beter en sneller op de hoogte houden van de ontwikkelingen rondom BaitNation. Denk aan updates rondom nieuwe artikelen, akties, veilingen en blogs. Vind je dat leuk, voeg jezelf dan toe door het scannen van deze QR code: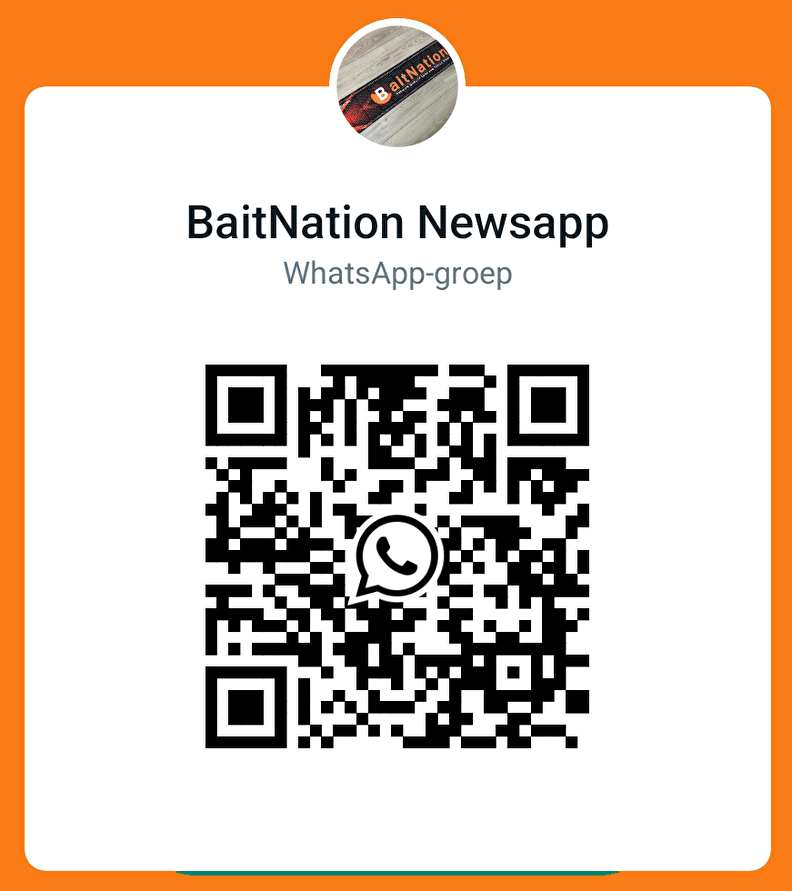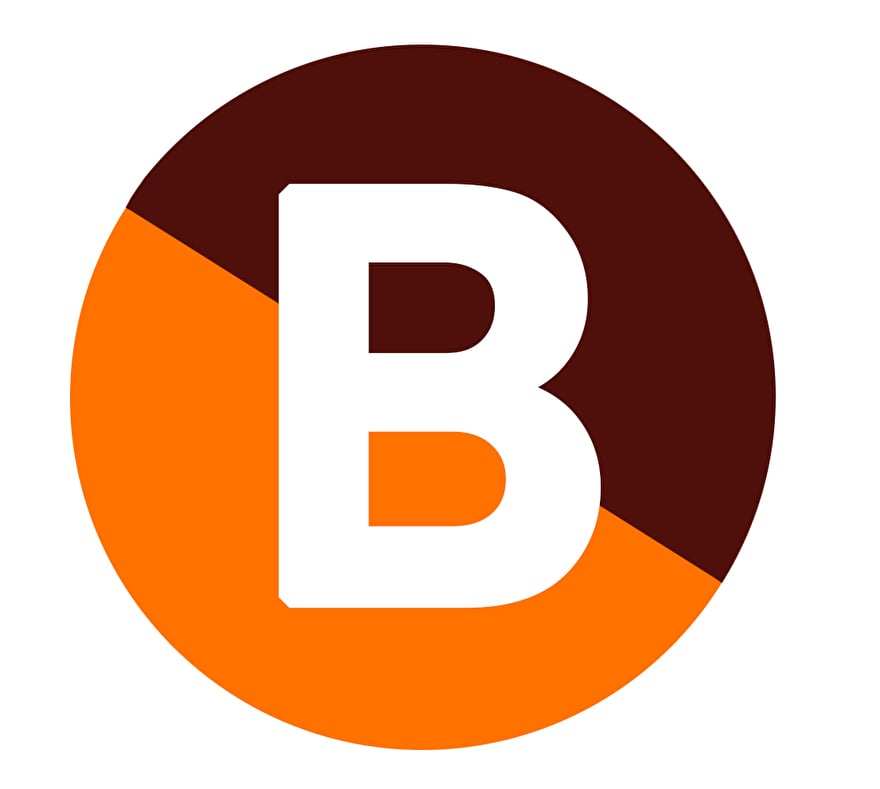 Don't Fish The Mainstream!
Instagram
Voor de dikste vangstfoto's volg je ons ook op Instagram: @baitnationnl