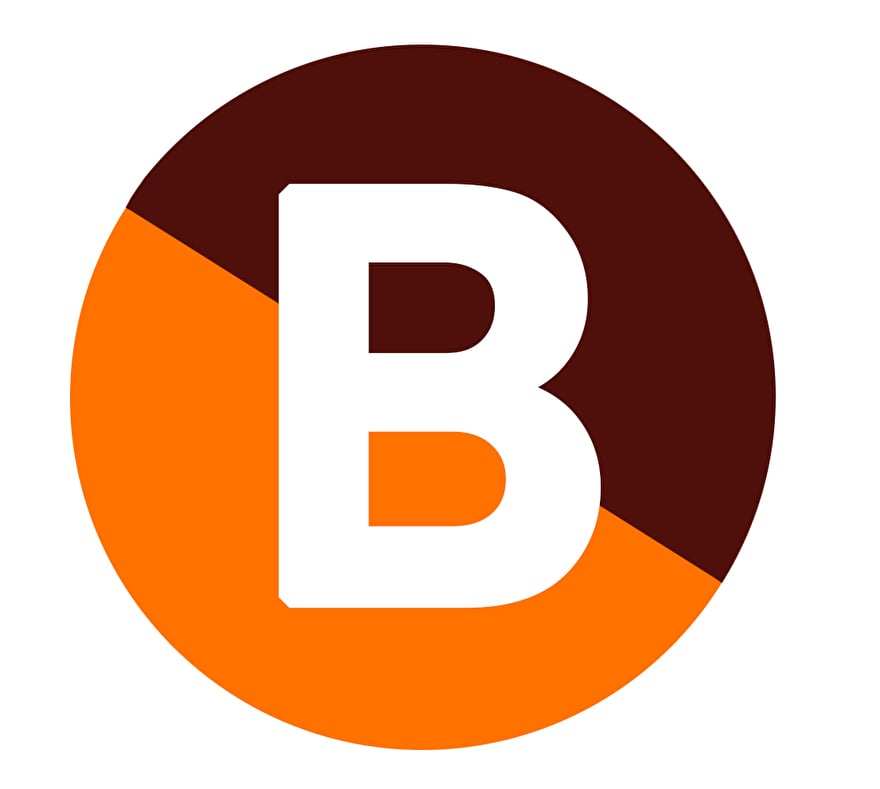 "Twisters, wie is er niet groot mee geworden?"
Als ik terugdenk aan mijn jeugd en met welk kunstaas ik toen viste....komen er eigenlijk alleen maar mooie herinneringen boven van het vissen met mijn vriendje van toen.
Standaard gingen wij op onze fiets met de hengel in de hand naar het water om op kleine baarsjes te vissen. Hadden we toen de rugzak vol met tackleboxen met 1001 verschillende soorten kunstaas? Nee joh ben je gek! We visten met 1 soort kunstaas: twisters!
Bijna vanzelfsprekend was het toen de Mr Twister die voor ons de klok sloeg. Met de blote voetjes in het warme water vingen wij toen op zomermiddagen met de Mr Twister veel, nee heel veel, baarzen en baarsjes op een recreatieplas in de buurt.
Onder het mom "Oldskool never dies" hebben wij uiteraard een groot assortiment twisters, of grubs zoals ze nu veelal worden genoemd, in huis. Ik zie tegenwoordig nog maar weinig vissers met twisters aan de slag gaan dus de kans dat je succes boekt....is heel groot. "Don't Fish The Mainstream" weet je nog?
Voor wie niet weet waar de naam grub vandaan komt even kort het volgende: over het algemeen heeft een grub een kort, meestal rond lichaam dat lijkt op het lichaam van een insectenlarve. Een grub kan zowel een een gladde, gesegmenteerde of geribbelde afwerking hebben. Meest voorkomend is de geribbelde uitvoering. Sommige merken voegen een kraag met franjes toe voor meer visuele aantrekkingskracht.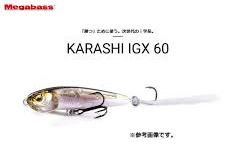 Nu weet je waarom twisters in Amerika Grubs heten...
In mijn jeugd viste ik de twisters heel ssimpel gewoon met een jighead. Uiteraard zijn er heden ten dage verschillende toepassingen/rigs te bedenken voor het vissen met grubs:
Jighead: easy piecy gewoon een jighead er doorheen riggen en vis de grub daar waar jij het wil in de waterkolom. Van langzaam over de bodem op zoek naar de groter vissen die bijvoorbeeld onder de scholen aasvis loeren op een makkelijke prooi. Tot wat sneller door het midden van de waterkolom waar vaak de kleinere baars zich in grote scholen ophoudt.
Ned rig: De Z Man GrubZ zijn, zoals alle ZMan softbaits, gemaakt van het drijvende Elaztech materiaal. Zeker de kleinere maten zijn bij uitstek geschikt om ze eens op een ned rig te presenteren. Ze staan dan mooi rechtop op de bodem en de staart zal verleidelijk heen en weer wapperen.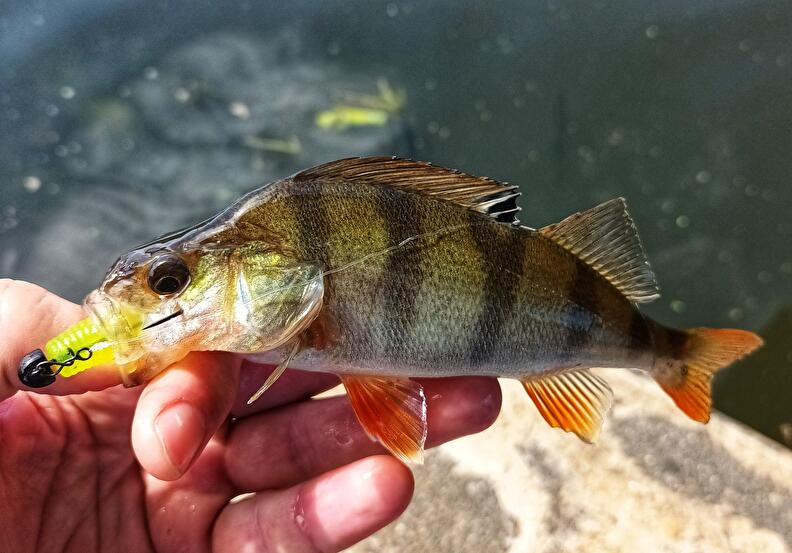 Een Z Man GrubZ op de ned rig, werkt uitstekend!
Dropshot: Single-tail grubs zoals bijvoorbeeld de X Zone grubs kunnen een geweldige finesse-optie zijn. Het keine formaat past bij de algemene aasvis-look, terwijl een beetje back-end actie van de staart de roofvis verleidt tot een aanbeet.
Texas of Carolina rig: Ik heb onlangs de 2" Keitech Mad Wag met een maatje 6 offset haak op de Texas rig gevist en heb hier leuk op gevangen. Deze kleine maat zorgt er, icm een wat langzamere manier van vissen, wel voor dat je ook veel grondels haakt. Aan licht materiaal is een wat grotere grondel of een baars van een cm of 25 ook leuke sport!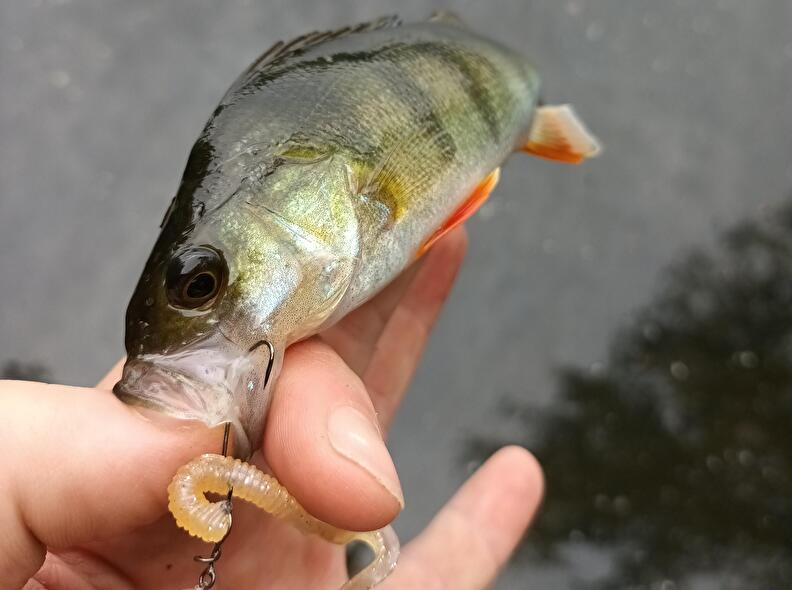 2" Keitech Mad Wag op een maatje 6 Decoy offsethaak;
het hoeft echt niet altijd groot te zijn
Chatterbait trailer: Over het algemeen past het profiel van een grubs goed als een chatterbait-trailer, maar vooral de trillingen die de staart, naast het blad van de chatterbait afgeeft, maakt dat dit een succesvolle combinatie kan zijn. Zéker in de zomer wanneer de roofvissen actiever zijn en hun hand niet omdraaien voor een agressief gevist stuk kunstaas als een chatterbait.
Topwater: Zoals eerder al benoemd zijn de Z Man GrubZ gemaakt van drijvend materiaal. Rig er eens een offsethaak doorheen en vis ze deze maanden eens als topwater door de polderwateren....De grote 5" DoormatadorZ en de 9" GrubZ zijn daar buitengewoon geschikt voor. Wat ook werkt: rig ze eens aan een verzwaarde offsetaak en vis ze zodoende net ónder het wateroppervlak binnen; dikke pret gegarandeerd!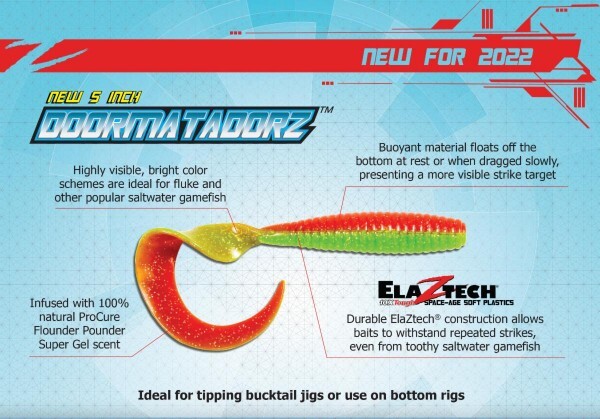 Z Man 5" DoormatadorZ , nieuw in 2022 en uiteraard al bij ons verkrijgbaar!

Al met al heeft het potentieel van een grub/twister in de loop der jaren natuurlijk niet ingeboed en nu er minder en minder mee gevist wordt, kan het voor jou wel eens hét aasje zijn wat het verschil maakt! Dus ik zou zeggen; probeer het eens uit.
Tot volgende week maar weer!
Instagram
Voor de dikste vangstfoto's volg je ons ook op Instagram: @baitnationnl