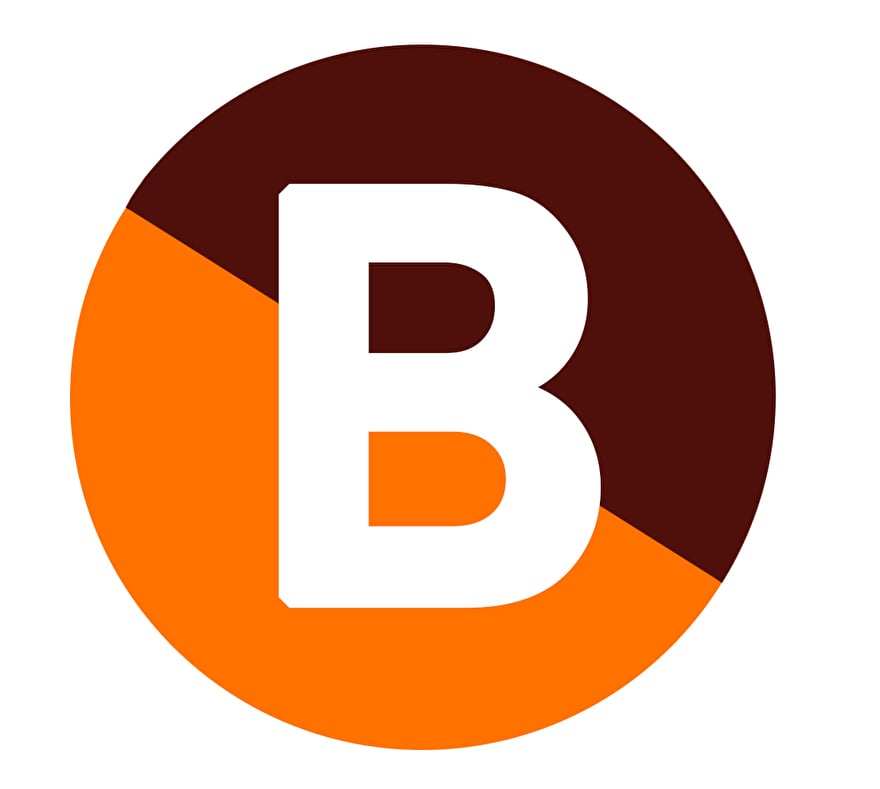 "Chatterbait misverstanden"
Wist je dat wij bijna 200(!) verschillende chatterbaits in ons assortiment hebben?? Sinds ik in 2018 tijdens het NK Bellyboat in de dying seconds een mooie 80-er snoek ving en zo mijn 3e plaats overall veilig stelde, ben ik redelijk verslaafd aan het vissen met chatterbaits.
Ik verbaas mij er nog steeds over dat dit topaas niet bij alle vissers tot de standaard uitrusting behoort...ik zou niet meer zonder deze topper kunnen in ieder geval.
In een poging je te overtuigen van de vangracht van chatterbaits probeer ik in dit blog een aantal misverstanden rondom chatterbaits uit de wereld te helpen.

Misverstand 1: Chatterbaits werken niet in helder water
Grotere onzin kan ik bijna niet bedenken! Ik vis voornamelijk in zeer helder water. Ik heb vanuit de bellyboat, met behulp van de dieptemeter, wel eens getest tot hoe diep ik mijn shad nog kon zien wanneer ik hem loodrecht naar beneden liet zakken.....geloof het of niet maar ik zag hem nog toen hij tussen 3,5 a 4 meter diepte was. Best helder dacht ik zo.
Toch vang ik prima met chatterbaits in dit water. Veel gemaakte fout is dat men denkt dat de vibratie die een chatterbait afgeeft vooral nut heeft in heel troebel water. Tuurlijk helpt dat maar wanneer je de kleur van de skirt en evt van een trailerbait iets aanpast aan de omstandigheden kan je nog prima baars en ook zeker snoek vangen in zeer helder water.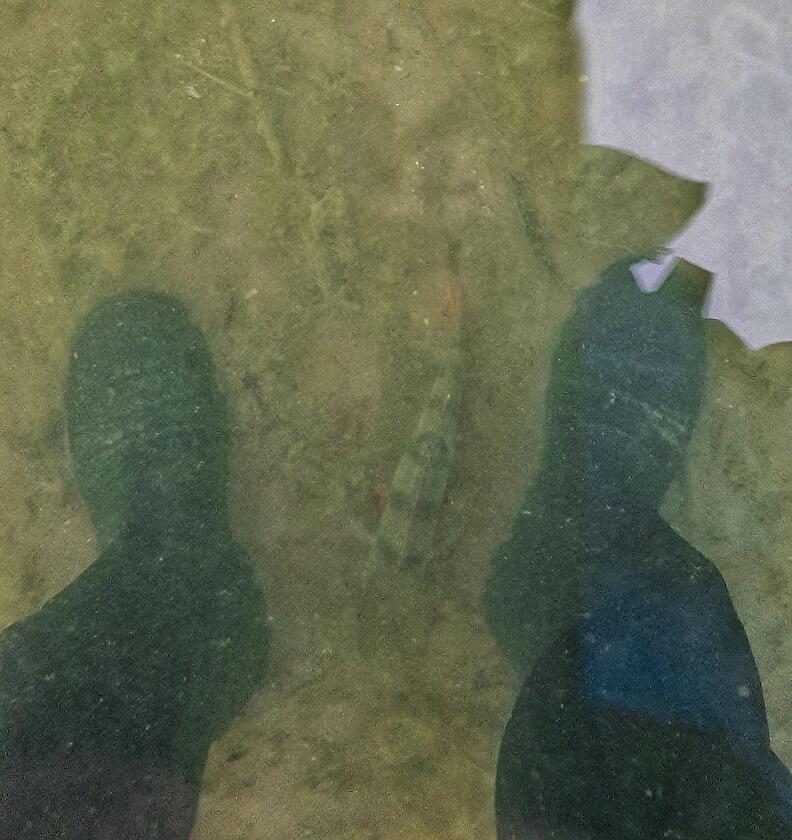 kraakhelder water en een mooie baars ;-)
Vaak is het zo dat water heel helder is omdat er veel planten groeien en deze het alg en stof in het water vasthouden. Doordat het zonlicht ook erg diep kan komen, groeien de planten hard en vaak tot net onder het oppervlak. Vissen met crankbaits is dan vaak onmogelijk geworden maar chatterbaits vis je nagenoeg probleemloos tussen de planten door en zijn dan echte vangers.
Misverstand 2: Chatterbaits kan je allen recht toe recht aan binnenvissen
Tuurlijk ga je je vissen vangen wanneer je dit doet. 100% zeker. Maar ik garandeer je dat je meer zult vangen als je wat meer actie in het binnenvissen brengt. Je kan het bijna zo gek niet maken.
Dit betekent niet dat je hem als een lipless crankbait door de planten moet binnenraggen. Een simpele pauze tijdens het binnenvissen of een tik met de hengeltop kan al genoeg zijn om een ​​reactie uit te lokken van een verder ongeïnteresseerde baars. vis je in water waar weinig tot geen plantengroei is, laat hem dan gerust over de bodem stuiteren dit zorgt ervoor dat de chatterbait eerder opvalt bij de roofvis. Een chatterbait die maximaal bodemcontact maakt, is de Z Man Freedom CFL. Tevens zal deze door de vorm van de kop, ovaal, minder snel vast blijven zitten tussen stenen en rotsen.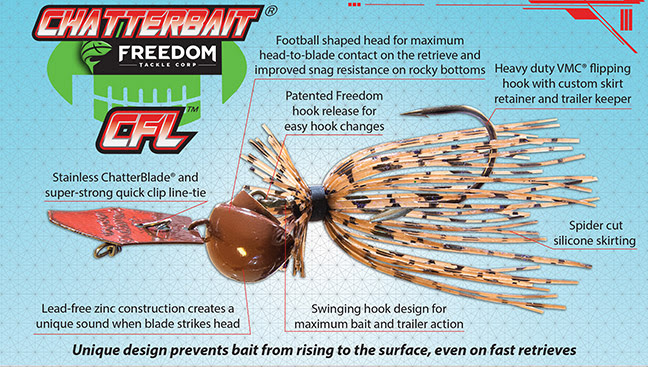 Z Man chatterbait Freedom CFL, voor als je over de bodem wilt vissen
Deze kleine veranderingen in het binnenvissen zorgen ervoor dat je chatterbait grillig reageert, wat twee zeer belangrijke triggers imiteert: een gewonde of een vluchtende aasvis. Beide types zijn gemakkelijke keuzes voor onze roofvissen en ze zijn eerder geneigd een, in hun beleving, makkelijke prooi te pakken dan een vis die kern gezond lijkt en steady doorzwemt.
Misverstand 3: de trailers blijven nooit goed zitten op de haak
Echt super irritant; je werp je chatterbait in en je merkt bij de eerste paar slagen van je molen of reel al dat de trailer op je haak naar de haakbocht is gegleden...
Chatterbaits zijn per definitie extreem geschikt om ze tussen de planten door te vissen en wanneer je een softbait op de haak bevestigt, maakt dit je chatterbait nog meer weedless en aantrekkelijker.
Zeker wanneer je Z Man shads of creatures gebruikt willen deze nopg wel eens naar beneden schuiven wanneer je chatterbaits gebruikt zonder zogenaamde hookkeeper. Alle Z Man chatterbaits hebben deze hookkeeper, deze houdt je softbait, ongeacht het merk, perfect op zijn plek zodat je aaspresentatie niet verpest wordt en worp na worp stevig op zijn plek blijft zitten. Persoonlijk geef ik de voorkeur aan een Z Man RaZor ShadZ. Dit omdat hij zo slank is en een super mooie aktie heeft.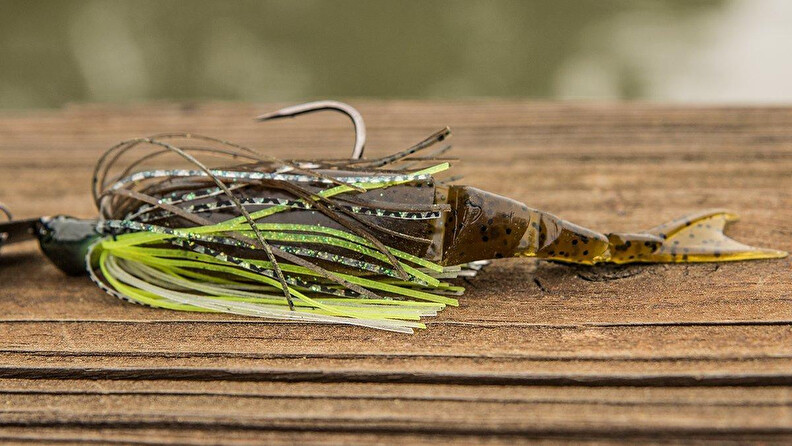 Z Man Razor ShadZ; dé chatterbait trailer!
Misverstand 4: te veel nadenken over kleur
Mijn autistische brein trekt het niet wanneer ik de skirt niet matcht met een bijpassende kleur trailer, er ontstaat dan serieuze kortsluiting in mijn hoofd. Echter, ik heb de afgelopen jaren wel gemerkt dat het de baars of snoek echt niet heel veel boeit. Soms zijn contrasterende kleuren echt serieus goed.
Ik pas de kleur van mijn chatterbait wel aan aan de kleur van de prooivis. Zo zit er op mijn thuiswater een mega overschot aan voornamelijk kleinere baars en ik heb wel gemerkt dat ik op dat water met baarskleurige chatterbaits beter vang dan met bv witte.
Vis ik op voor mij onbekend water dan pak ik vaak eerst een chatterbait die qua kleur het meest lijkt op een witvis (bv voorn). De kleur Threadfin Shad van Z Man is dan de kleur waar mijn keus op valt.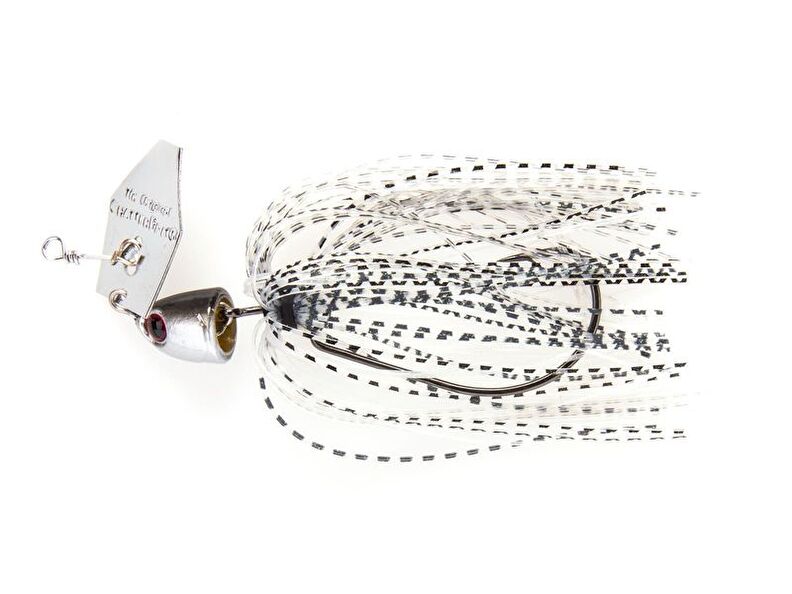 Threadfin Shad, stel je deze voor met een qua kleur gelijkende trailer en je hebt de perfecte voorn imitatie!
Heb ik daar geen resultaat op dan ga ik toch vaak weer over op de baarskleur. Eerlijk gezegd denk ik dat het meeste een kwestie van vertrouwen is. Denk er niet te veel over na en probeer niet meer tijd te besteden aan het opnieuw knopen van verschillende kleuren dan aan vissen zelf. Als je aasje niet in het water ligt, vang je er sowieso niks mee. Voor mij ook de reden om tegenwoordig echt heel minimaal bepakt naar het water te gaan. Paar kleurtjes en verschillende varianten en hup gaan met die banaan.
Voor de goed orde; Ik zie mezelf zeker niet als een ChatterBait-expert, maar ik wilde je graag meenemen in mijn beleving rondom het vissen met chatterbaits zodat je wellicht eerder resultaat hebt dan ik had ;-)
Voor nu nog even veel sterkte gedurende de gesloten tijd en ik hoor graag je chatterbait resultaten vanaf begin juni
Groet,
Freek


Instagram
Voor de dikste vangstfoto's volg je ons ook op Instagram: @baitnationnl