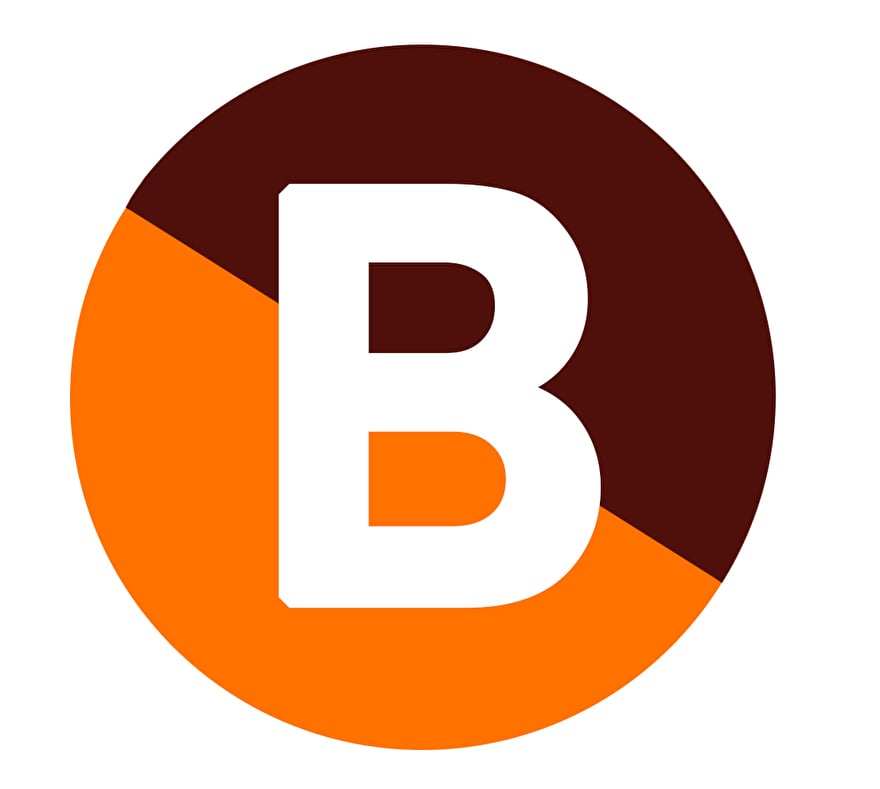 "Wat ga je doen?"
Heb jij al een idee wat je gaat doen ná de gesloten tijd? Ga je lekker veelzijdig aan de slag om verschillende technieken te ontdekken of ga je "specimen hunten" op die ene grote bak op je thuiswater, ga je je specialiseren in 1 bepaalde techniek of ga je je helemaal richten op 1 specifiek aasje en daar alles uithalen?
In een poging je keuze wellicht wat makkelijker te maken zal ik hieronder een aantal technieken beschrijven waar wij als team tijdens voorgaande openingen al heel succesvol mee zijn geweest. De roofvis heeft, als het goed is, twee maanden geen kunstaas voorbij zien komen dus de openingsweken vallen op door harde aanbeten en vaak veel vis tijdens de sessies. Ook is de temperatuur hopelijk wat beter en het water opgewarmd door het voorjaarszonnetje, de vis zal dan ook een stuk actiever zijn dan de afgelopen wintermaanden. Alle ingedrienten voor een mooie seizoensstart zijn dan aanwezig!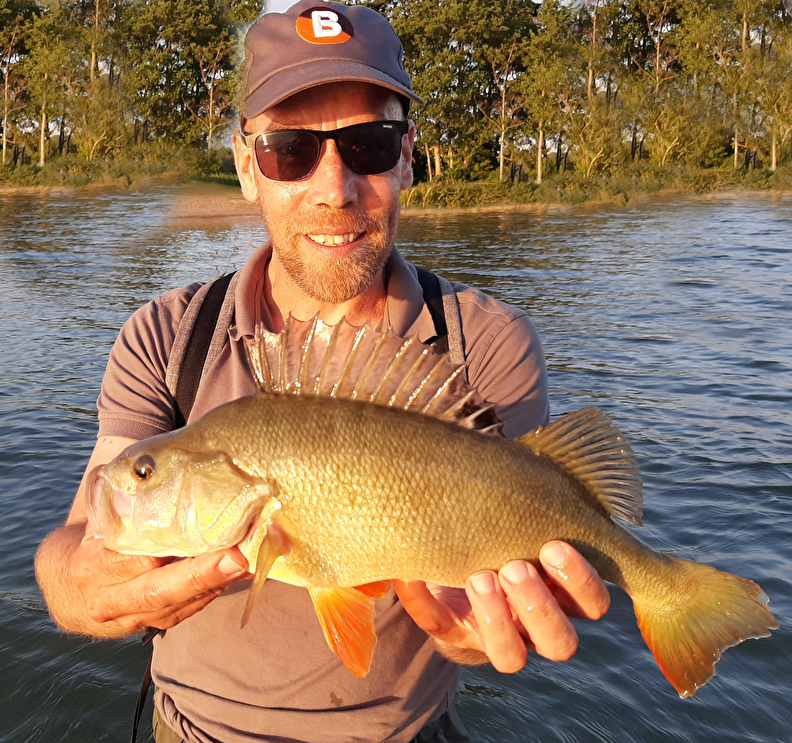 Wordt het weer zo'n opening Joris??
1. Suspending twitchbaits
Suspending twitchbaits imiteren aasvissen die, laten we zeggen, niet helemaal fris de winter uit zijn gekomen waardoor ze voor vriend roofvis een uitstekende keuze zijn zo kort na de gesloten tijd. In tegenstelling tot wat veel vissers denken, kunnen twitchbaits ook heel langzaam worden binnengevist. Zeker wanneer het water nog relatief koud is, zal het langzaam binnenvissen zijn vruchten meer dan afwerpen.
Werp je twitchbait over het talud, draai hem met een paar slagen van je molen binnen om hem op de gewenste diepte te krijgen en geef een paar tikken met je hengeltop. Dit zorgt ervoor dat je de kenmerkende links/rechts aktie te krijgt. Heel belangrijk is het hangmoment. Je zal zien dat je tijdens deze "hangtime"t de meeste aanbeten krijgt. Aarzel dus niet om je twitchbait een paar seconden in de waterkolom te laten hangen; hoe langer hij in het zicht van de (snoek)baars blijft hoe beter het is. Zeker in helder water!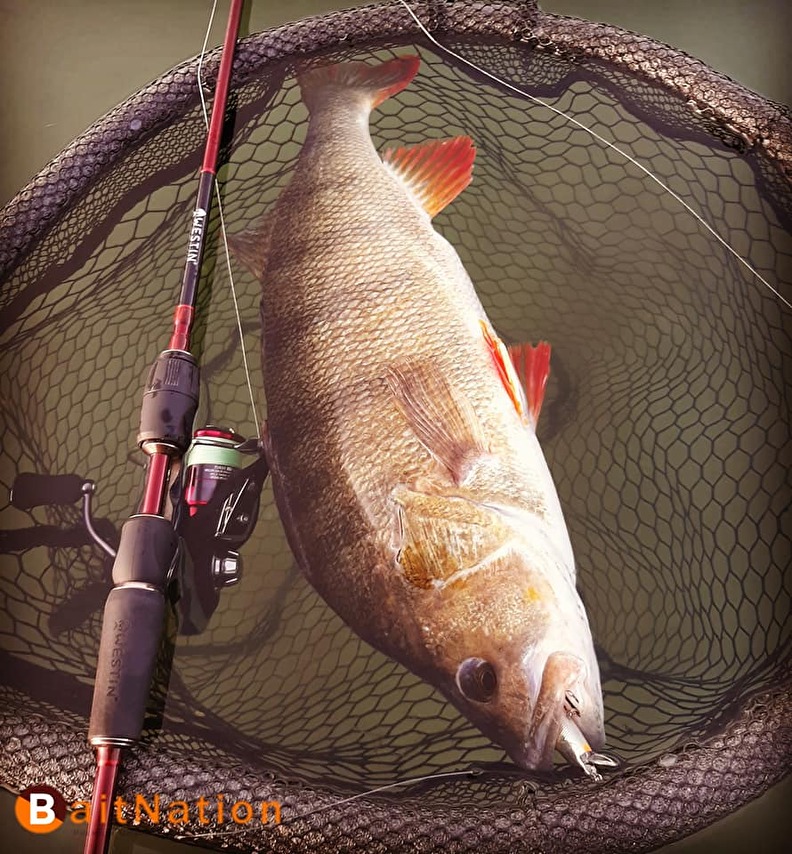 Prachtige baars die een Nories twitchbait niet kon weerstaan
Elke twitchbait heeft zijn eigen unieke aktie, dus neem een ​​paar verschillende soorten mee voor je trip naar de lentebaars. Afgelopen jaren hebben wij vroeg in het seizoen het meest succes gehad met de wat kleinere Nories Just Wakasagi twitchbaits. Kies voor de ondieplopende in wat warmer en ondieper water en voor de dieplopende wanneer het water dieper en kouder is en de baars hierdoor nog wat passiever is en dieper ligt. Uiteraaard is de Megabass OneTen Jr en de Megabass OneTen Jr+1 ook een meer dan uitstekende keuze.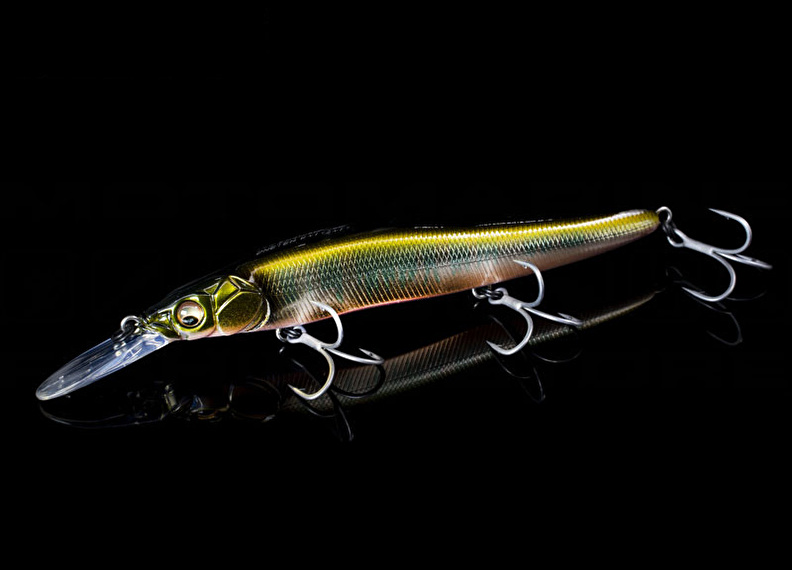 Megabass OneTen Jr R+1
2. Lipless crankbaits
Pas de laatste jaren wat meer in schwung bij de Nederlandse roofvisser maar degene die ze gebruiken hebben de vangkracht van lippless cranks al wel ruim ondervonden!
Ze zijn zeer geschikt voor water waar de waterplanten al wat opkomen; je vist ze er namelijk heel makkelijk overheen. Aan de andere kant zijn ze in mijn ogen met name geschikt voor wateren met een harde bodem. Laat ze hier maar eens flink overheen stuiteren en een spoor van stof en steenstjes achterlaten. De roofvis zal van een afstand al aangetrokken worden door dit rumoer. Daarnaast geven ze enorme trillingen af en zijn ze daardoor ook geschikt voor wat troebeler water. Lipless cranks zijn zo gebouwd dat ze lange worpen mogelijk maken en zijn hierdoor perfect om veel water af te vissen op zoek naar actieve roofvis. We hebben diverse soorten in ons assortment van de kleine Megabass Nano X tot de wat grotere 6th Sense Quake Thud.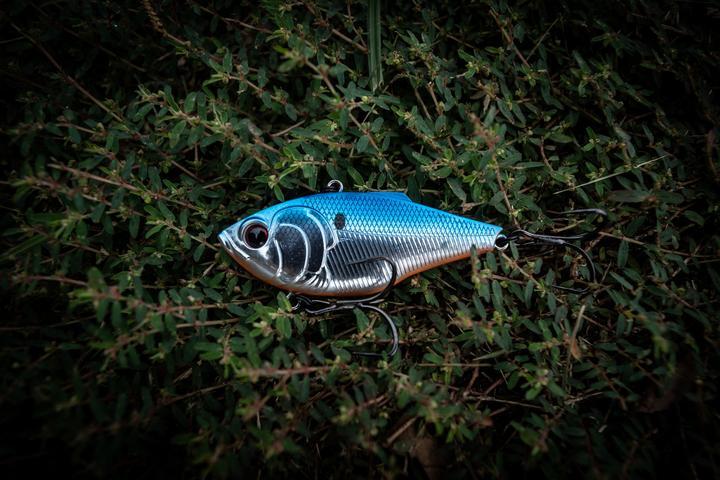 6th Sense Quake Thud, beauty is het niet?
3. Jigs
De good old "jigkop met shad" is natuurlijk ook zo kort na de start van het seizoen niet te onderschatten. Gebruik in het voorjaar wat kleinere shads of creatures, de aasvis is immers ook wat kleiner nu. Kijk eens naar de 3" Keitech Easy Shiner of bv de 3" Hellgies van Lunker City. Het voordeel van jigs is dat je hier ook relatief snel veel water mee kan afvissen. Het nadeel kan zijn dat je min of meer alleen de vissen triggert die zich op of in de buurt van de bodem ophouden. Ook zijn ze wat moelijker te gebruiken op plassen waar de waterplanten al opkomen dus ik zou je willen adviseren de met name te gebruiken op wateren met een harde bodem en geen begroeiing.
Oh, en als we het hebben over good en old; probeer dan eens een shad met twisterstaat. Bijvoorbeeld de X Zone 3" Grubs. Al jaren een overslaanbare softbait. ik zou bijna zeggen: "Wie is er niet groot mee geworden!" ;-)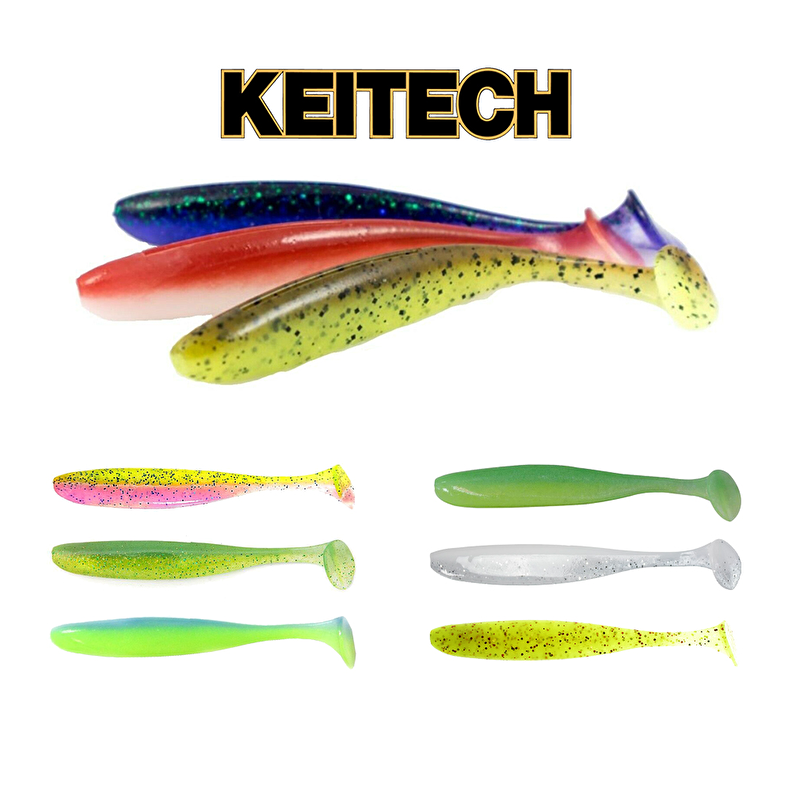 Keitech Easy Shiner, topkwaliteit uit Japan
4. Tubes
Als je de vis op of langs taluds zoekt, zijn tubes een goede keuze. Deze eenvoudig te gebruiken softbait kan dicht bij de bodem worden gehouden en langzaam, dmv kleine tikjes met de hengeltop, binnen worden gevist. We hebben een groot assortiment tubes van oa Keitech, Lunker City, X Zone en Z Man op voorraad. Ook de keuze voor de tubejigs is reuze. Ik zal hier in een ander blog verder over uitwijden.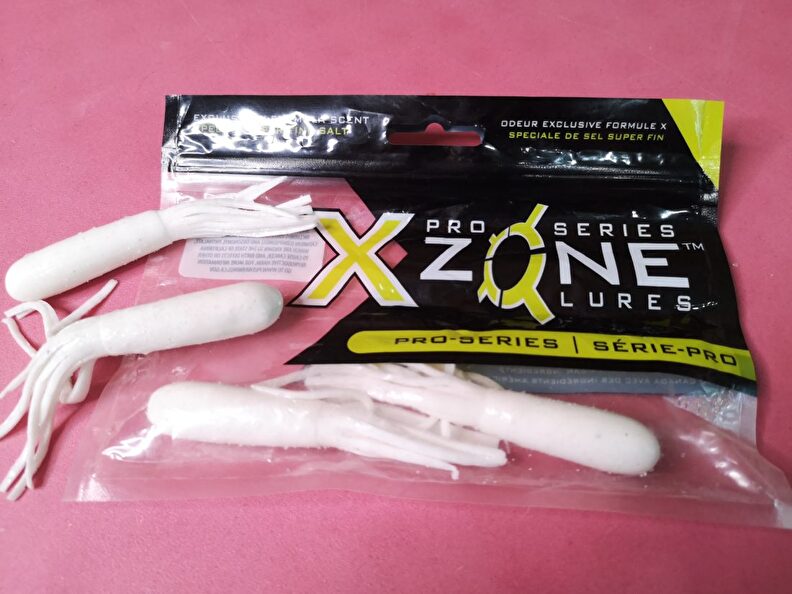 X Zone Tubes, verkijgbaar in 2,75" en 3,75"
5. Topwaters
Wanneer we een heel mooie meimaand met een lekker zonnetje en al lekker temperaturen hebben, zal het water ook al lekker opgewarmd zijn, het metabolisme van de roofvis flink op gang komen en ze hierdoor ook de aan het oppervlak azen op visjes die minder fit zijn. Dit is hét startsein om met topwaters aan de slag te gaan! Super spectaculaire aanbeten zijn dan vaak het resultaat. Aan het begin van het seizoen zijn de wat kleinere topwaters als de Ecogear Shrimp en de 6th Sense Dogma 100 van 10cm of de Megabass Baby Pop X.
Als we verder in het seizoen komen, kan je topwater wat groter worden en als je water echt dicht ligt met leliebladeren en andere groene zooi, dan pak je een kikker als de Lunkerhunt Popping Frog en ga je de mega harde aanbeten van snoeken aan het oppervlak ervaren!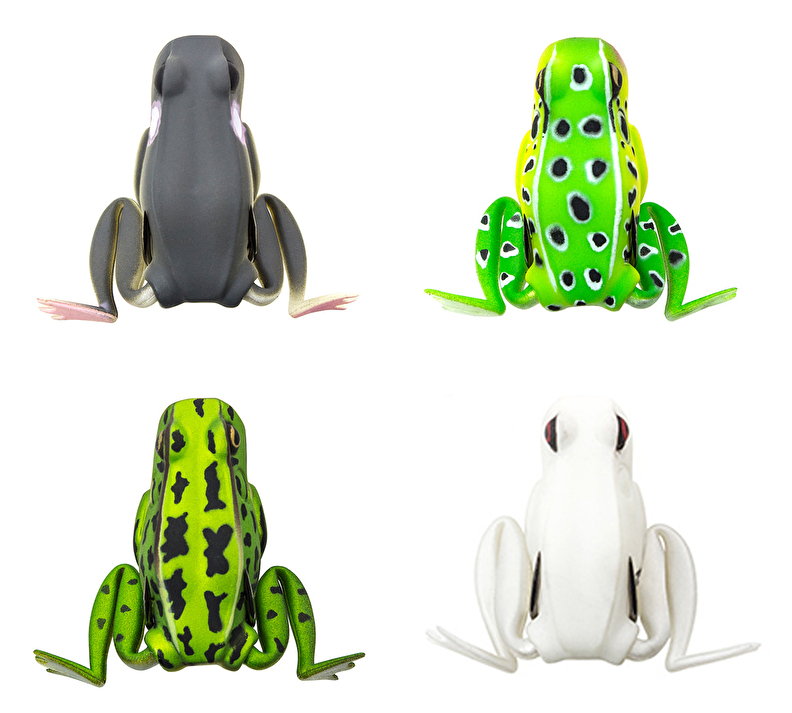 Hoe levensecht wil je ze hebben....de Lunkerhunt Popping Frog
Maarrrrrr voordat het zover is, gaan wij je eerst blij maken met 2 volle maanden mega dikke kortingen tijdens onze jaarlijkse "Closed Season Sale!" We gaan je hier later over bijpraten maar stay tuned want het wordt écht heel spectaculair!

Nog even geduld...
Genoeg weer voor nu, tot volgende week!
Groet,
Freek
​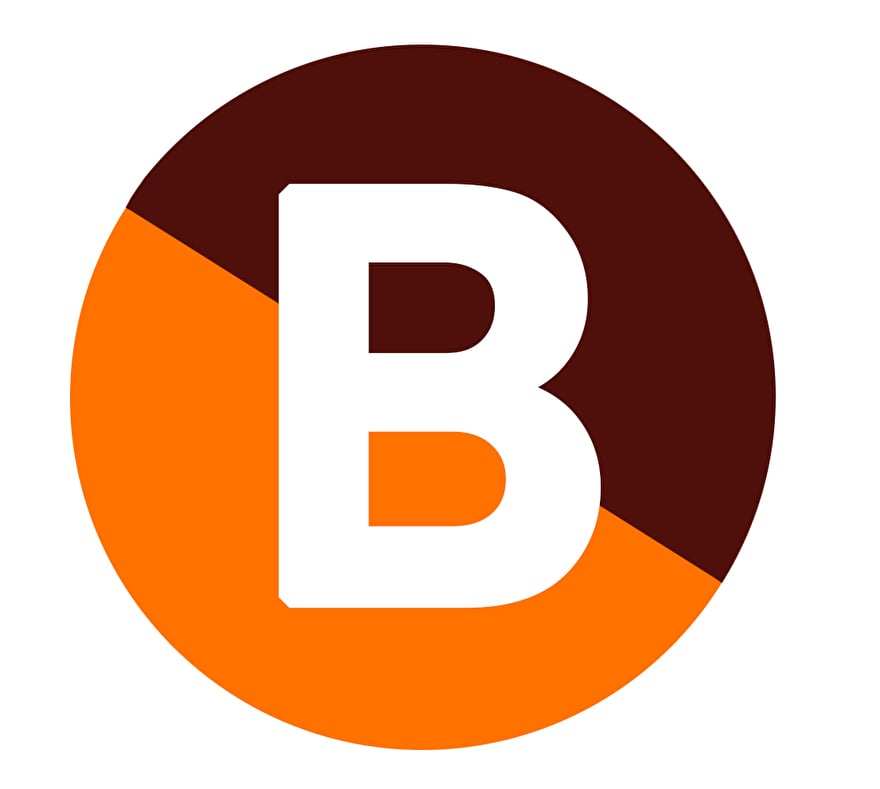 ​Don't Fish The Mainstream!
Instagram
Voor de dikste vangstfoto's volg je ons ook op Instagram: @baitnationnl