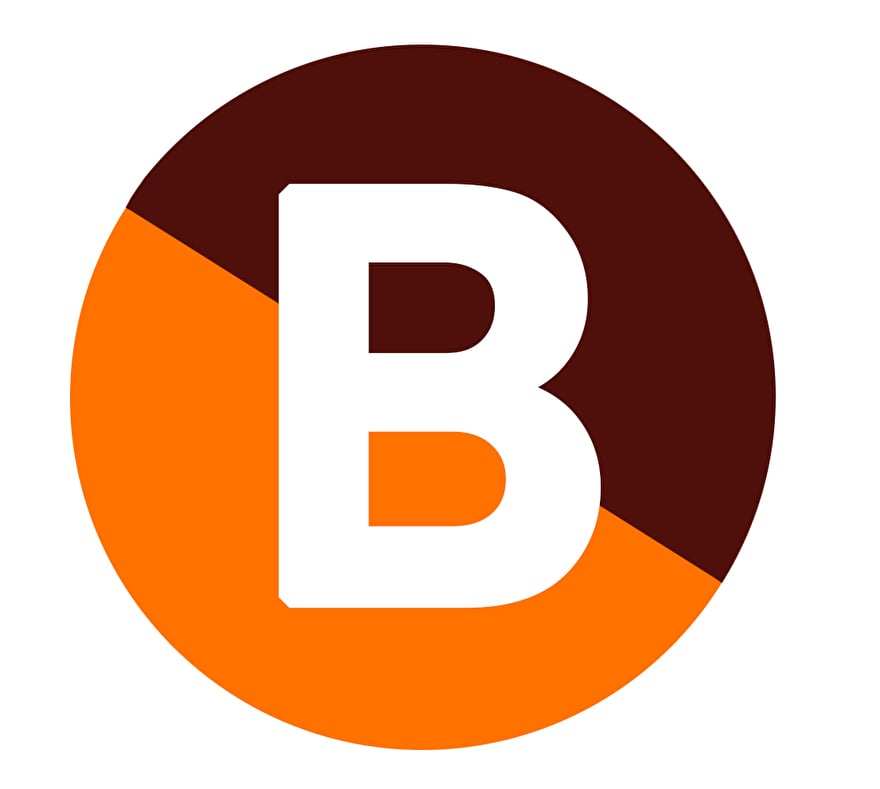 "Lente: spinnerbait-tijd!"
Nu we de 3e of 4e storm in een paar weken hebben gehad en waarbij de laatste "Eunice" de zwaarste in 4 jaar was begin ik nu toch echt wel serieus de voorjaarskriebels te krijgen hoor; lekker in een shirtje en korte broek aan of op het water en achter de rovers aan.

Ikzelf ben van plan om deze zomer eens wat meer met spinnerbaits aan de gang te gaan. Voor mijzelf een aasje waar ik "vroegah" lekker op kon vangen maar inmiddels ook al weer jaren, min of meer, ongebruikt in mijn tacklebox zit; daar moet maar weer eens verandering in komen
De combinatie voorjaar, helder water en opkomende planten maakt het voor het water waar ik veel op vis steeds moeilijker om met bodemaas als bijvoorbeeld shads te vissen en zeker verder in de zomer staan de planten zo hoog dat ook het vissen met crankbaits bijna niet meer te doen is. Dit was voor mij de afgelopen jaren hét teken om te starten met chatterbaits maar dit jaar wil ik dus weer eens wat actiever met spinnerbaits aan de slag. Hieronder zal ik je alles vertellen wat je moet weten over het vissen met spinnerbaits.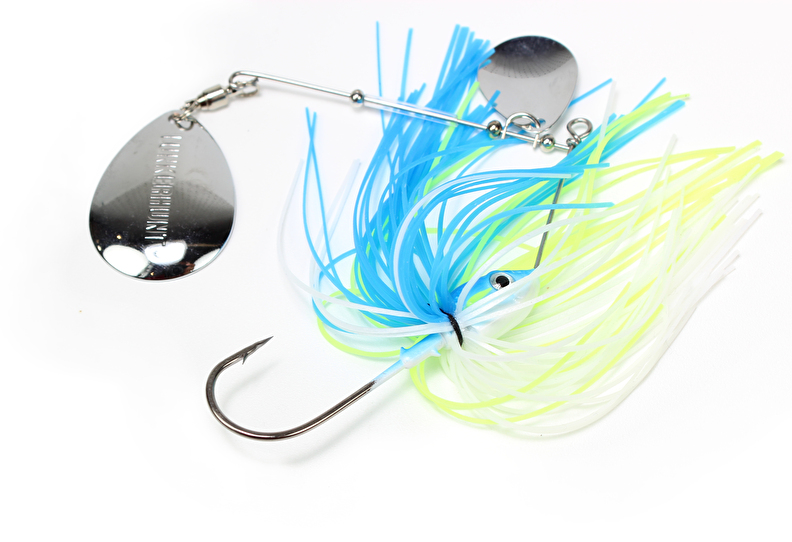 De Impact spinnerbait van Lunkerhunt
Spinnerbaits zijn het hele voorjaar en natuurlijk een groot deel van de zomer uitstekende vangers. Ze stellen je in staat om relatief snel veel water af te vissen, je kunt ze relatief makkelijk door veel begroeiing als fontijnkruid vissen. Ook staan ze bekend om het feit dat het prima vangers zijn van snoek maar ik probeer me toch te richten op grote baars. Wees je er altijd van bewust dat "vriend" snoek er dus ook niet vies van is en gebruik altijd een snoekproof leader zoals bv Knot2Kinky.
Omdat ik me dus, ook met spinnerbaits, blijf richten op baars is voor mij de grootte echt wel belangrijk. Veel vissers zien spinnerbaits als een one-size-fits-all type kunstaas en gooien het hele jaar door en ongeacht welke vissoort de targetvis is, met dezelfde modellen. Ook worden de omstandigheden veelal uit het oog verloren. Ik denk dat je de maat van je spinnerbait echt wel moet aanpassen aan het voedselaanbod. Vooral in het voorjaar, wanneer de baarzen zich voeden met een grote verscheidenheid aan verschillende soorten voer zoals speldaas maar ook veel kleine insecten. In de lente zijn de meeste aasvissen superklein, dus pak ik een klienre spinnerbait zoals bv de Z Man Sling BladeZ van 1/4 oz oftewel 7 gram. Deze spinnerbait is dus vrij licht en heeft vrij kleine spinnerbalden waardoor baars eerder zal aanbijten dan wanneer je een grotere maat gebruikt.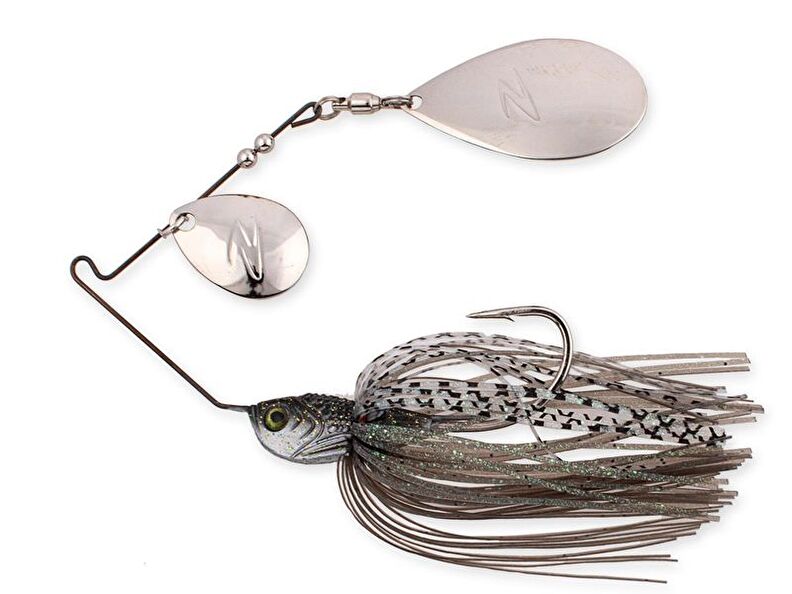 Z Man SlingbladeZ 1/4o z, 7 gram; mooi klein voor het voorjaar en de vroege zomer
Opvallen
De roofvis en in dit geval de baars in het bijzonder, vertrouwt in zijn jacht op voedsel op twee zintuigen; zicht en trillingen. Als ze de aanwezigheid van je aas niet kunnen voelen, zal je 100% zeker geen aanbeten krijgen. Om die reden is het belangrijk om een ​​spinnerbait te kiezen die niet alleen het juiste aasprofiel heeft, maar ook door de baars gezien én gevoeld kan worden.
De bladcombinatie zorgt voor de trilling in het water. Afhankelijk van de omstandigheden kan je echt alles gebruiken, van een dubbele willow combinatie voor een maximale schittering in het water tot een dubbel Colorado-blad voor maximale trillingen.
Volgens mij kan je ook wat dit betreft weer de standaard regel gebruiken die ook geldt voor het kleurgebruik van bijvoorbeeld shads.
In helder water ben je op zoek naar meer schittering en in vuiler water, meer trillingen. Daarom ga ik in een heldere grindafgraving voor een spinnerbait met dubbele willow blad of een combinatie van Colorado/willow. Wanneer het water meer lijkt op een grote kop koffie, in bijvoorbeeld een moderige rivierplas na een heftige storm of hoog water, pak ik dan een spinnerbait met een dubbel Coloradoblad voor maximale trilling.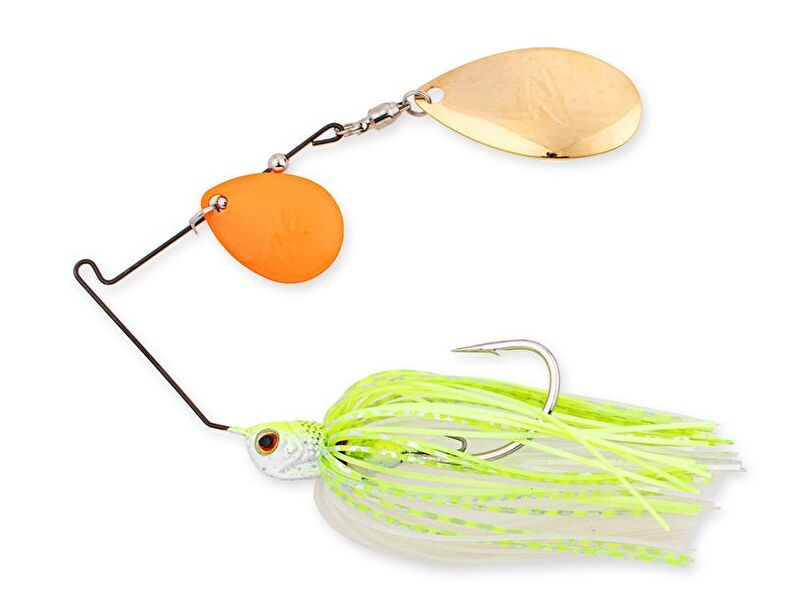 Spinnerbait met dubbel Colorado blad, felle kleuren in de skirt én UV aktief, beter wordt wordt het niet in troebel water!
Blijf veelzijdig
Voor het vissen met een spinnerbait geldt natuurlijk hetzelfde als elke andere techniek; blijf veelzijdig, pas je aan aan de omstandigheden en durf te experimenteren om ervoor te zorgen dat je kunstaas de juiste vibratie afgeeft die de baars triggert.
Daarnaast heb je natuurlijk nog tal van mogelijkheden om de haak van je spinnerbait te voorzien van een zogelnaamde trailer. Een shad of creaturebait voor extra aantrekkingskracht. Daarover in een ander blog meer.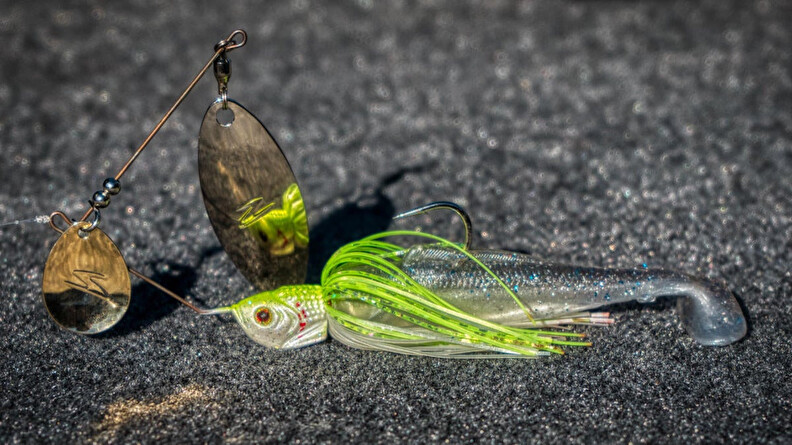 Mooi voorbeeld van trailer op de haak van een Z Man Sling BladeZ Spinnerbait
Tot volgende week!
Groet,
Freek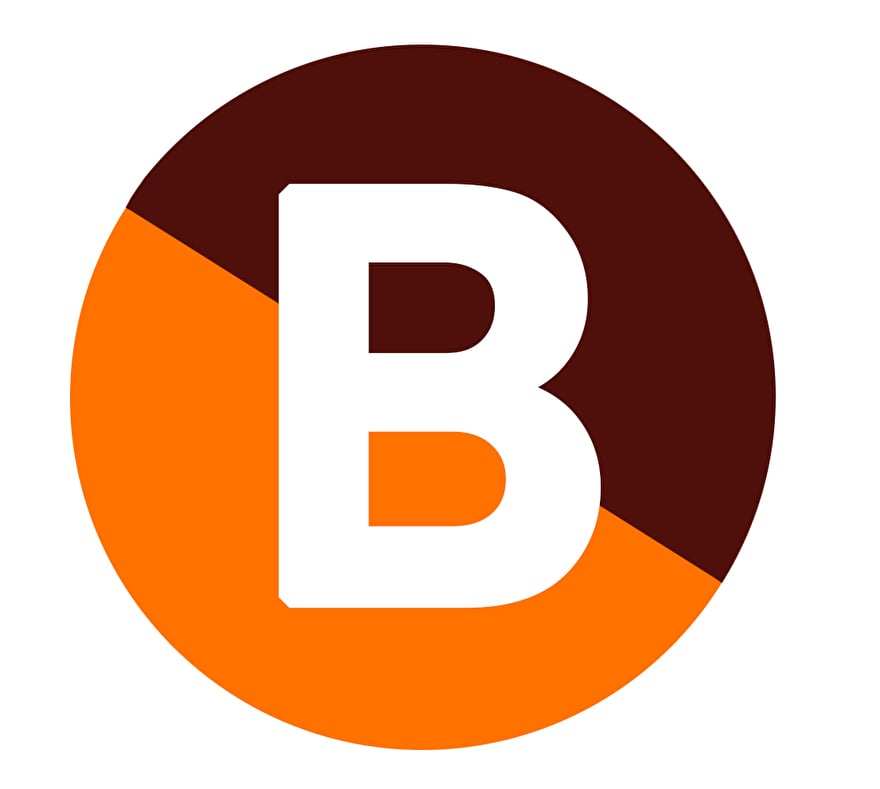 Don't Fish The Mainstream!
Instagram
Voor de dikste vangstfoto's volg je ons ook op Instagram: @baitnationnl