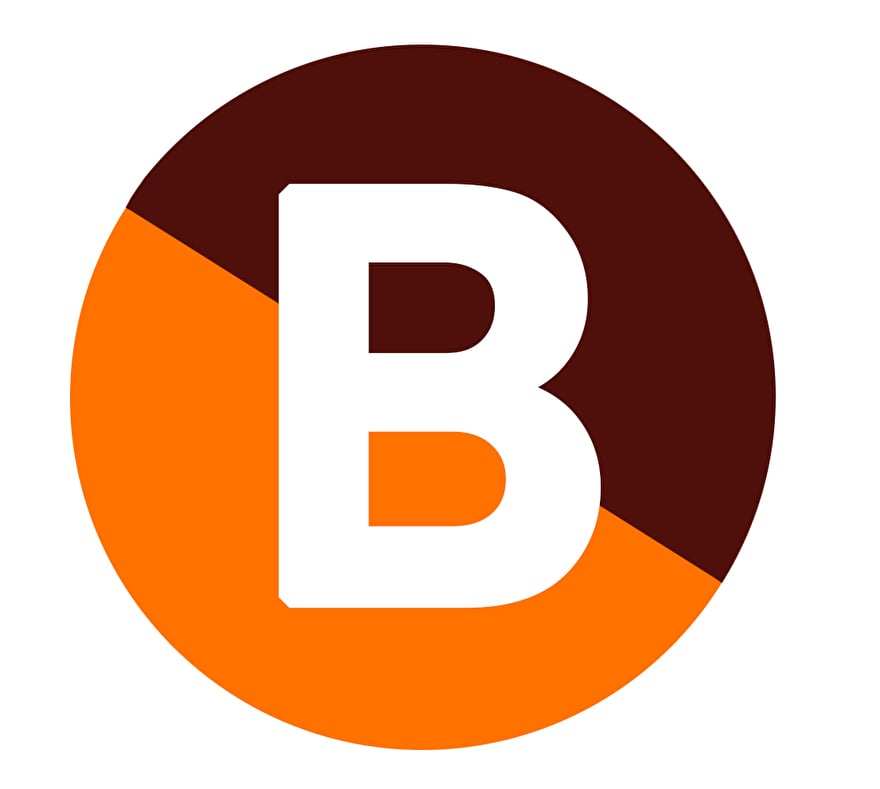 "5 tips voor het vissen met twitchbaits"
Al een tijdje mega populair onder met name baarsvissers: het vissen met twitchbaits. Op de juiste manier gevist kunnen deze langwerpige en slanke pluggen echt het verschil maken op dagen waarop de baars niet gericht is op softbaits die op de bodem worden aangeboden.
Vaak is het ook zo dat de grotere baars zich niet per se op de bodem ophoudt, maar juist meer in de middenlaag van het water en laat een twitchbait nou uitermate geschikt zijn om juist die waterlaag af te vissen.

In dit blog deel ik 5 tips voor het vissen met twitchtbaits.

Tip 1:
Richt je op steile taluds. De sleutel tot succes is de nabijheid van dieper water. Je kan prima ondiepere platen afvissen maar voor succes "moet" er een steil talud naar dieper water in de buurt zijn. Bij voorkeur binnen werpafstand maar ik heb zelf ook al vaak meegemaakt dat de grote baarzen echt niet vies zijn van een stukje de ondiepe platen opzwemmen. Met name in het voorjaar, wanneer het water weer wat opwarmt is dit een prima stek om met twitchbaits uit te vissen.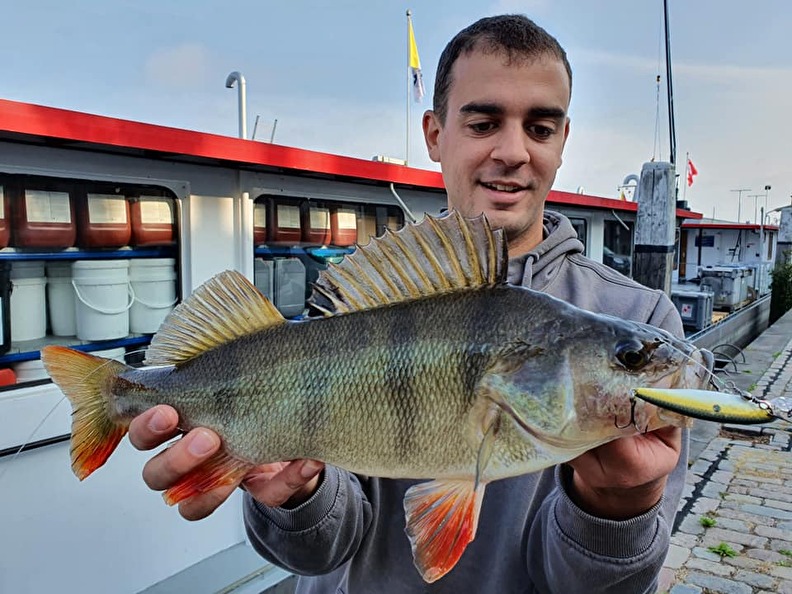 Said met een prachtige baars op een dieplopende Nories twitchbait
Tip 2:
Experimenteer met twitchbaits met verschillende loopdieptes en acties. Hoewel je de aasactie tot op zekere hoogte kunt beheersen, presteren twitchbaits met een minder felle actie vaak beter in koud water. Daarnaast is het goed om bij kouder water grotere twitchbaits te gebruiken die ook dieper lopen. Bijvoorbeeld de Megabass Vision OneTen R+1 of de Megabass Vision R+2 is dan een uitmuntende. In het voorjaar, net na de gesloten tijd vis ik graag met wat kleinere twitchbaits als de Megabass Vision OneTen Jr of de Nories Laydown Minnow Just Wakasagi. Met name de laatste is een twitchbait die relatief ondiep loopt, ongeveer 30-50 cm en is hier door een mooie twichbait om over de beginnend opkomende planten te vissen. Wat verder de zomer in vind ik de 6th Sense Provoke 106X een fijne twitchbait om mee te vissen. Deze is qua profiel net weer even wat groter.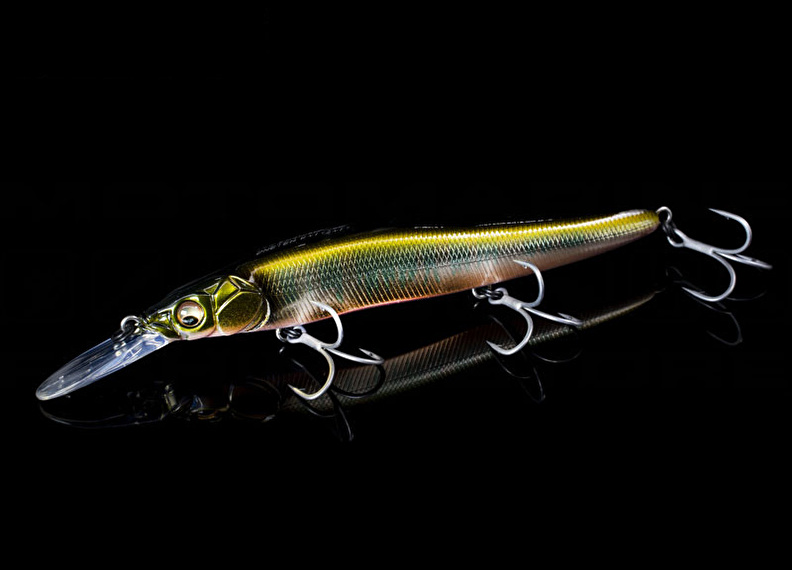 De wereldvermaarde Megabass Vission Oneten, hier in de R+1 variant
Tip 3:
Varieer je inhaalsnelheid. Een van de belangrijkste kenmerken van twitchbaits is de mogelijkheid om de inhaalsnelheid en de aktie aan te passen aan het aasgedrag van de vis. Persoonlijk heb ik op 1 of andere manier niet het geduld om met twitchbaits heel langzaam te vissen. Uiteraard is dat in de koudere maanden wel wenselijk dus misschien dat ik daarom liever in het voorjaar en de zomer met twitchbaits vis en de winter gebruik voor andere technieken. Wanneer je met dieplopende twitchbaits vist, kan je deze na het inwerpen het beste, met een paar slingers van je molen, even goed op diepte te brengen en daarna binnen twitchen. je creert dan op diepte de kenmerkende links-rechts aktie en dan komt de dieplopende variant het beste tot zijn recht.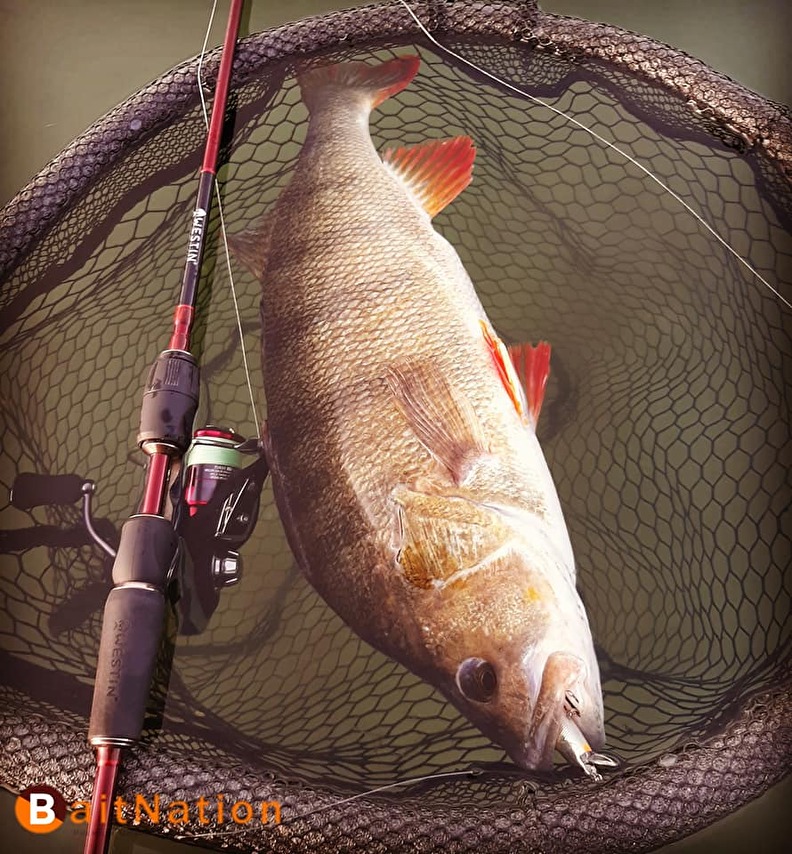 Deze baars kon, net na de gesloten tijd, een ondiep geviste Nories twitchbait niet weerstaan
Tip 4:
Inmiddels heeft de ervaring geleerd dat ook vriend snoek, of voor sommigen "de meest ongewenste bijvangst", zich ook zeer geïnteresseerd kan tonen in je twitchbait. Wanneer je weet dat er in je viswater veel snoek aanwezig is, zou ik je altijd willen adviseren om een Knot2Kinky onderlijn te gebruiken. Dit is een knoopbaar en zeer flexibel titanum leadermateriaal wat er gewoon voor zorgt dat je snoek altijd kan landen. De lichtste variant van 6lb is voldoende.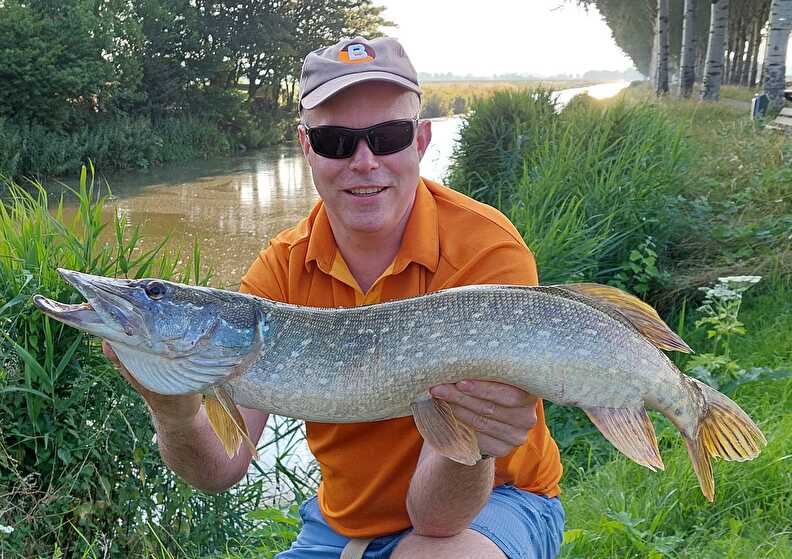 Zomeravond snoek op de 6th Sense Provoke twitchbait
Tip 5:
Enjoy! gewoon lekker genieten en veel experimenteren dan komen de vangsten met knetterharde aanbeten vanzelf ;-)
Tot volgende week!
Groet,
Freek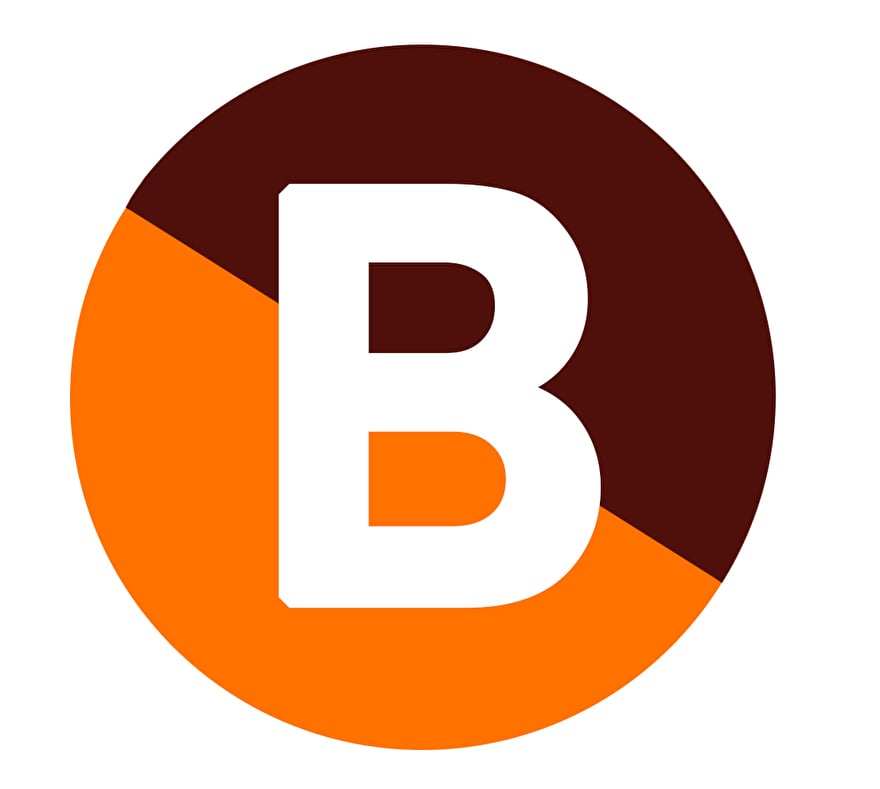 Don't Fish The Mainstream!
Instagram
Voor de dikste vangstfoto's volg je ons ook op Instagram: @baitnationnl