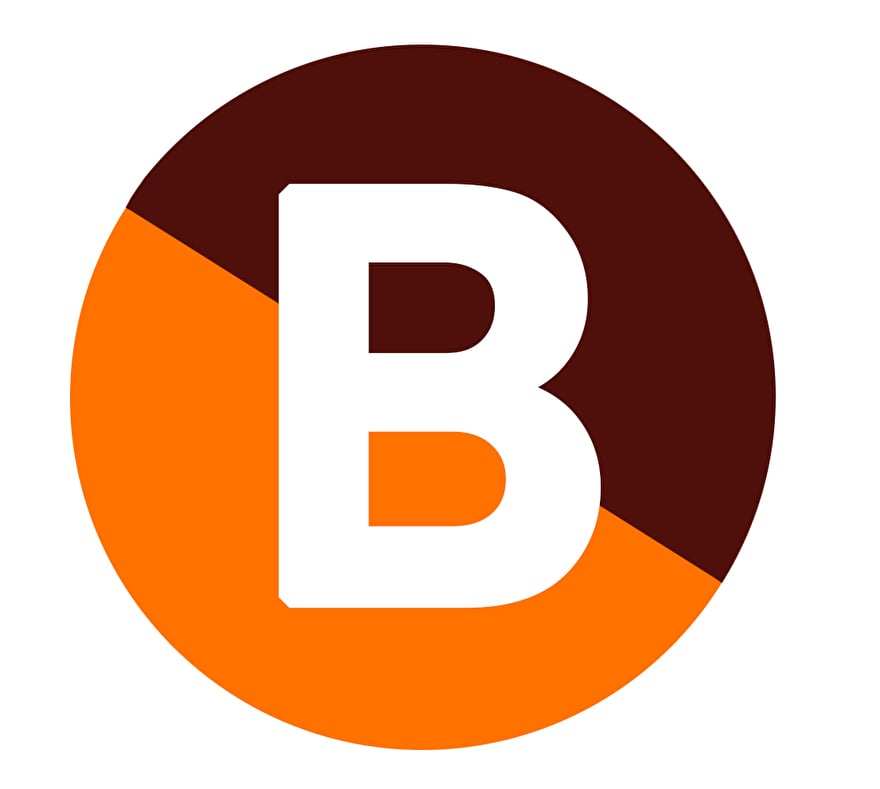 "Split Shot Rig?"
Het vissen op baars verandert en verbetert elk jaar van uitrusting tot technieken, denk bv maar aan de opkomst van de Ned rig of de Carolina rig. Maaaarrrr waarom niet een ietwat "vergeten" techniek weer eens opnieuw inzetten? Vaak werkt dit, zeker op de zwaar beviste wateren waar we er in Nederland echt heel veel van hebben, dressuurdoorbrekend en levert je het je de nodige aanbeten op wanneer de wat meer ge-ijkt of "modernere" technieken het af laten weten.
In het kader van onze slogan; "Don't Fish The Mainstream" en met het voorjaar in het vooruitzicht wil ik het in dit blog hebben over de split-shot rig, deze werkt vandaag de dag nog net zo goed als 30 jaar geleden en, omdat je waarschijnlijk een van de weinigen bent die nu deze techniek gebruikt, misschien nog wel effectiever.
Wat is nu eigenlijk een split shot rig?
Heel veel simpeler kan je het niet krijgen. Een split-shot rig bestaat uit drie onderdelen: een offsethaak, een kleine/lichte split-shot sinker en een softbait naar keuze. Dit is echt het enige wat je nodig hebt! Rig je softbait op de haak, knijp de sinker op de lijn voor de haak en klaar is Kees!

Dit is het, niks meer en niks minder. Ooit zo'n eenvoudige rig gezien?
De lichtgewicht split shot sinker icm een finesse softbait zorgt ervoor dat je aas heel rustig door het water glijdt. Wat belangrijk is om je te realiseren is dat het ook bij deze techniek echt gaat om het zinkmoment van je aas. Het meerendeel van de Nederlandse roofvissers vist vanaf de kant, natuurlijk kan je dan met kleine tikjes van de hengeltop je aasje al tikkend binnenvissen. Je aas krijgt door het lichte loodje op je lijn een heel onvoorspelbare aktie en schiet van links naar rechts en van boven naar beneden.
Vis je met een drijvende softbait bv van Z Man dan kan je heel mooi boven de planten vissen.
Vanuit de (belly)boot kan je hem natuurlijk ook werpen vissen zoals vanaf de kant maar wat ook heel goed wil werken is wanneer je hem recht naar beneden vist. Bij deze techniek vanuit de (belly)boot gaat en gaat het echt alleen en uitsluitend om het zakken van je aas, net als bijvoorbeeld bij de Neko rig. Krijg je dan geen aanbeet dan zoek je snel weer een nieuwe stek op.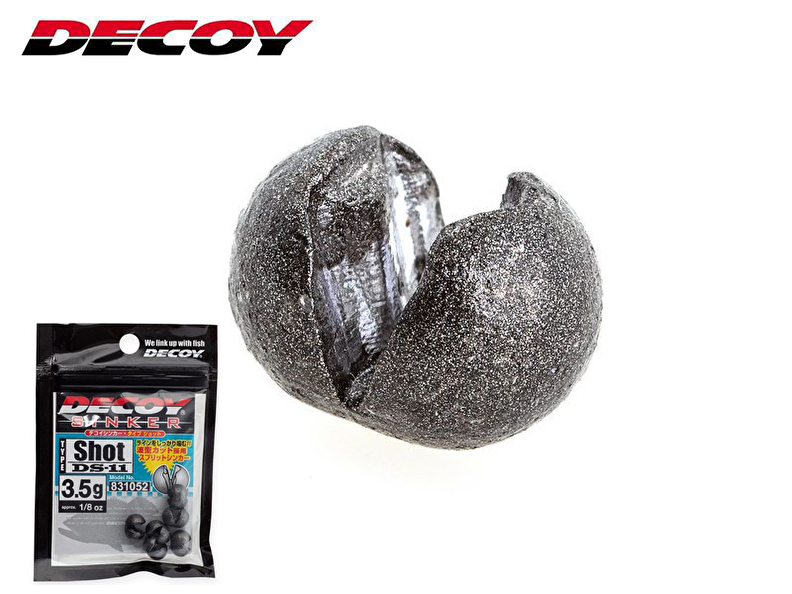 Decoy Split Shot Sinkers, extreem zachte loodhagels die je lijn niet beschadigen
De split-shot rig kan zich onderscheiden tov andere technieken wanneer je vist in zwaar bevist water. De roofvis zal deze presentatie waarschijnlijk niet (meer) herkennen en eerder aanbijten dan bv bij een meer gebruike presentatie als de drop shot rig of Texas rig.
Waar vis je de split shot rig?
Het is en blijft een finesse techniek dus gebruik hem in niet te diep water, zeg max 2 meter diep en water waar het niet te hard stroomt
Ikzelf heb er afgelopen voorjaar en zomer veel succes mee gehad wanneer ik op kleine visjes lijkende softbaits gebruikte bij bv sluisjes, bruggen, houten beschoeiingen en andere obstakels waar scholen baars zich vaak wil ophouden. Omdat je dus erg licht vist én omdat je je aas met een slappe lijn laat afzinken, is het zaak om heel goed je lijn in de gaten te houden. Veel aanbeten verraden zich door een weglopende lijn en niet zozeer als een tik op je hengel. Wanneer je in een "feeding frenzy" terecht komt voel je de aanbeten vaak wel; de bekende roffels van een baars aanbeet zijn niet te missen.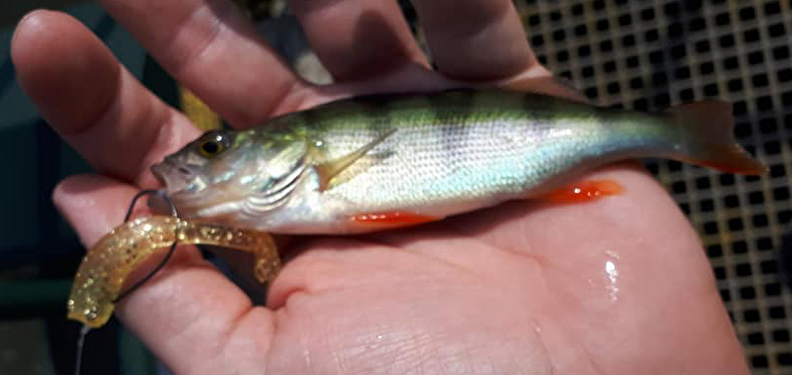 mooie gekleurd baarsje op een 2,5" Z Man Slim SwimZ en uiteraard aan de split shot rig gevangen!

Welk aas is geschikt voor de split shot rig?
Misschien wel het belangrijkste onderdeel van je split-shot rig is het kiezen van de juiste softbaitl. Omdat de hele opzet zelf zo licht en eenvoudig is, wordt de softbait die je aan je haak rigt extreem belangrijk. Je hoeft veelal niet ver te werpen dus kies in mijn ogen liever klein en licht kunstaas.
De meeste softbaits zullen best werken maar omdat ik deze techniek het liefst in het voorjaar en de zomer gebruik, wanneer er veel speldaas aanwezig is, gebruik ik echt het liefst kleine softbaits die op een visje lijken zoals bv de Z Man Finesse ShadZ of de Z Man Slim SwimZ. Of ik pak een creaturebait die op een kreeftje of insect lijkt zoals de Z Man TRD HogZ of de 3" Lunker City Hellgies.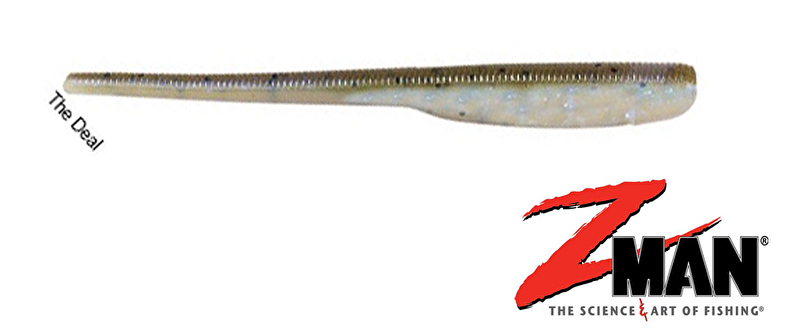 Z Man Finsesse ShadZ, in het voorjaar by far de favoriet aan de split shot rig
Qua kleuren hoef je het niet zo ingewikkeld te maken en kan je de standaard leidraad gebruiken. Dus natuurlijke kleuren in helder water en wat fellere kleuren in donkerder water.
Ik zou zeggen; give it a try dit voorjaar en laat je verrassen!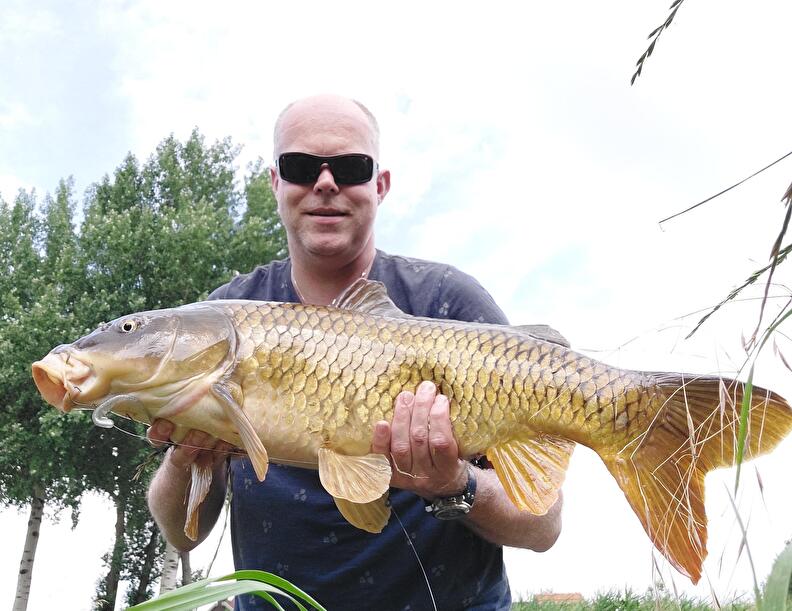 en soms....wordt je écht verrast! (check het aasje in de bek)
Tot volgende week!
Freek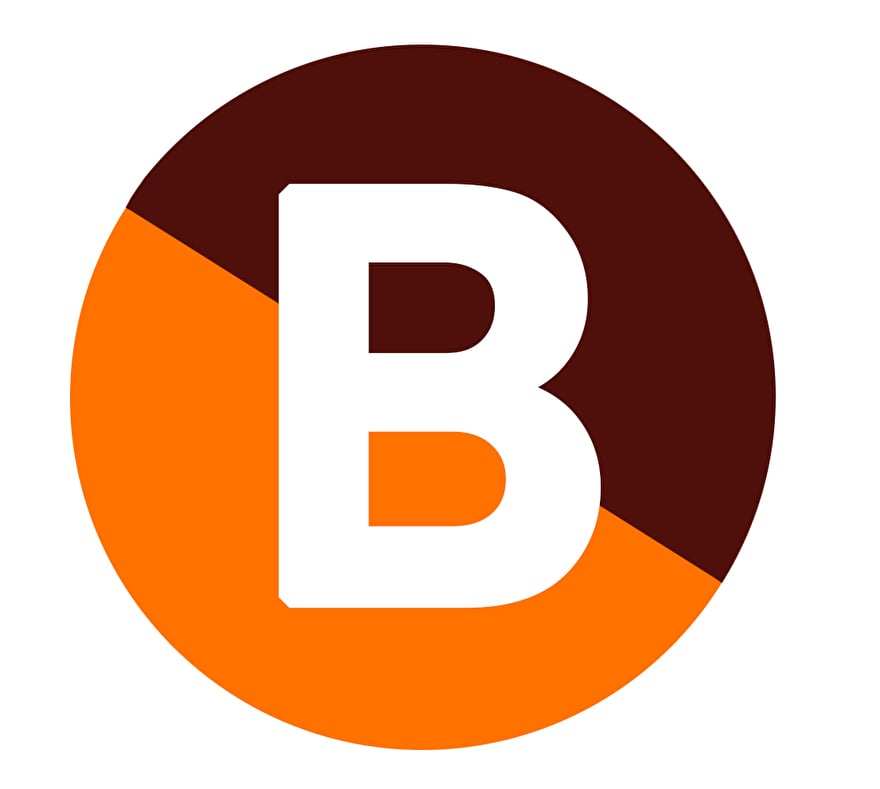 Don't Fish The Mainstream
Instagram
Voor de dikste vangstfoto's volg je ons ook op Instagram: @baitnationnl