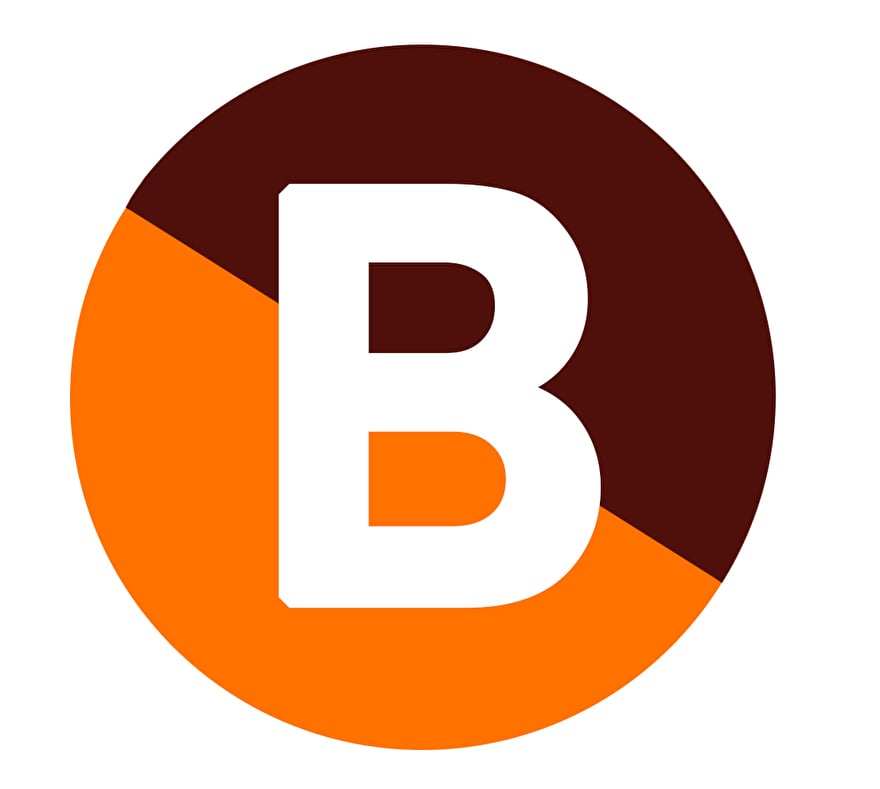 "Tips: Megabass Dark Sleeper"
Inmiddels hebben we al een aantal maanden het absolute TOPMERK Megabass in ons assortiment.
Uiteraard de bekende twitchbaits als de Vision OneTen in veel verschillende uitvoeringen en kleuren maar ook crankbaits als de IxI Shad en softbaits als de Bottle Shrimp en de Dark Sleeper. Juist over die laatste wil ik het in dit blog hebben. Het is een bijzondere swimbait die wellicht enige uitleg en duiding behoeft en dat zal ik jullie in dit blog proberen te geven zodat je er misschien nog meer vis mee gaat vangen.
Eerst maar eens even over het uiterlijk van de Dark Sleeper. Als je er naar kijkt zou je zeggen dat het een bijna perfecte imitatie van een grondel is en laat dat nou inmiddels zo'n beetje dé voornaamste voedselbron van roofvissen als snoekbaars maar zeker baars zijn!
Wat verder opvalt is de rugvin die de haak perfect verbergt en zo zorgt voor een meer natuurlijk uiterlijk. Maar deze zorgt er ook voor dat je de Dark Sleeper min of meer weedless kan vissen. De rugvin is gemaakt van een zeer zacht materiaal waardoor je echt totaal niet bang hoeft te zijn dat je hierdoor aanbeten gaat missen.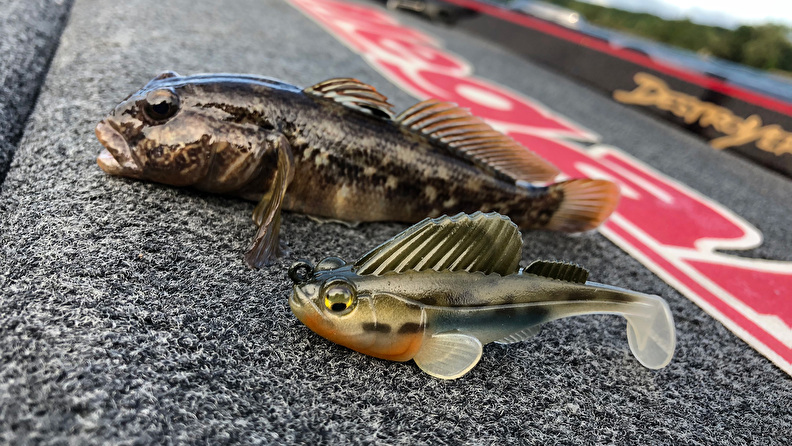 Megabass Dark Sleeper; een bijna exacte grondel kopie
Wat verder opvalt is dat het zogenaamde "pre-rigged" softbait is. Dat wil zeggen; je koopt hem helemaal kant en klaar incl werpgewicht en haak. Het werpgewicht zit voorin de Dark Sleeper weggewerkt en is daardoor niet zichtbaar voor roofvissen wat in zeer helder water een groot voordeel kan zijn. Door de plaatsing van het gewicht landt de Dark Sleeper, bij bv een spin stop, ook altijd op zijn buik op de bodem.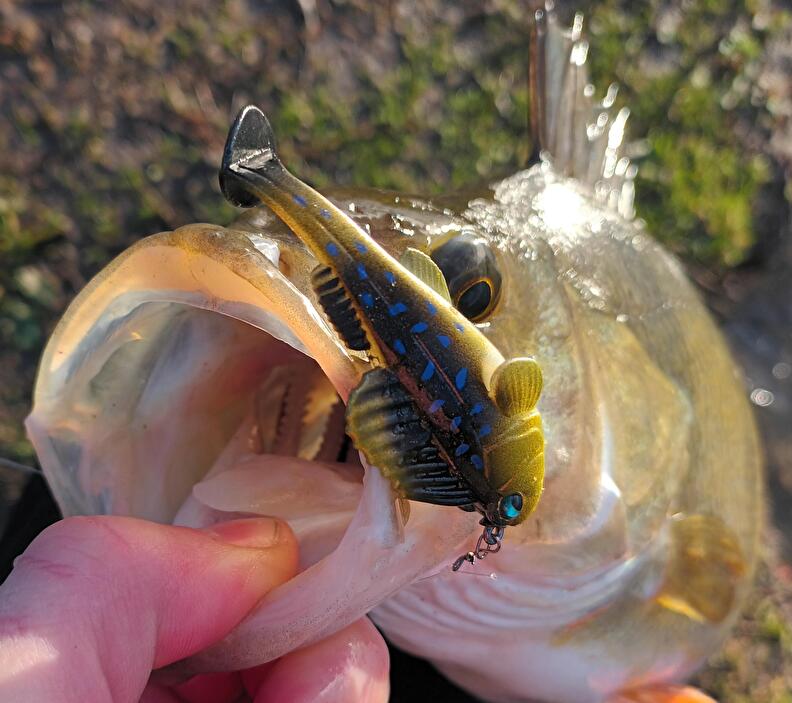 Een perfecte aanbeet, de rugvin gaf om precies te zijn nul beletsel

Hoe kan je de Dark Sleeper nou het beste binnen vissen? Daar heb je eigenlijk 2 mogelijkheden voor:

1/ vlak boven de bodem steady binnenspinnen. Wat zo gaaf is aan de Dark Sleeper is dat hij een schoepstaart heeft die een vrij dunne verbinding heeft met zijn relatief fosrse body. Dit zorgt voor een zeer zenuwachtige beweging wanneer je hem binnenvist én, wat mij betreft het mooiste aspect, hij landt bij een spinstop dus altijd op zijn buik. Dit brengt mij bij de andere manier van binnenvissen

2/ jiggend over de bodem. Met andere woorden; Inwerpen, naar de bodem laten afzinken en dan dmv een tik met je hengel of één of meerdere slagen met je molen weer binnenvissen. Dan weer af laten zinken en dan begin je weer opnieuw.

Wanneer en waar zet je hem nou het beste in? Nou ja dat kan natuurlijk year round. Het is een wat mij betreft, echt finesse softbait en hij heeft niet veel nodig om zijn staart te laten bewegen. Idealiter zet je hem in wanneer je weet dat je wat dieper water bevist en/of je door behoorlijk wat begroeiing moet om de bodem te bereiken. Doordat de rugvin de haak beschermd, vis je hem daar vrij makkelijk doorheen.
De Dark Sleeper wordt nog niet al te veel ingezet in Nederland dus hij kan ook best wel dressuurdoorbrekend zijn; probeer hem dus eens uit op zwaar bevist water, ik weet zeker dat je aangenaam verrast wordt!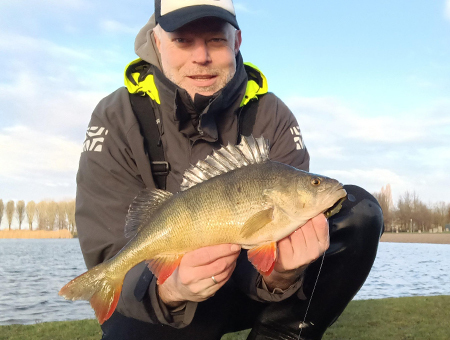 Een mooie winterbaars die van het diepe kwam
Een extra tip: ondanks dat het materiaal veel steviger/sterker is dan het materiaal waar veel andere Megabass softbaits van zijn gemaakt, gaat deze op den duur ook slijten of komen er scheurtjes in het materiaal op de neus. Vooral wanneer je er meerdere vissen op hebt gevangen óf wanneer je hem met zijn neus over stenen of bijvoorbeeld mosselbanken laat bouncen. Neem een tubetje secondenlijm mee en je kan hem makkelijk lijmen en zo de levensduur fors verlengen.
Nu dan nog even een stukje "wij van wc eend" ;-)
Wij hebben op dit moment 3 lengtes van de Dark Sleeper in ons assortiment; 2,4" (circa 6cm) 3" (circa 7,6cm) en 3,8" (9,6cm). Daarnaast zijn ze verkrijgbaar in verschillende gewichten: 1/4oz (circa 7 gram), 3/8oz (circa 10,6 gram) en 3/4oz (circa 21 gram) en in 9 kleuren.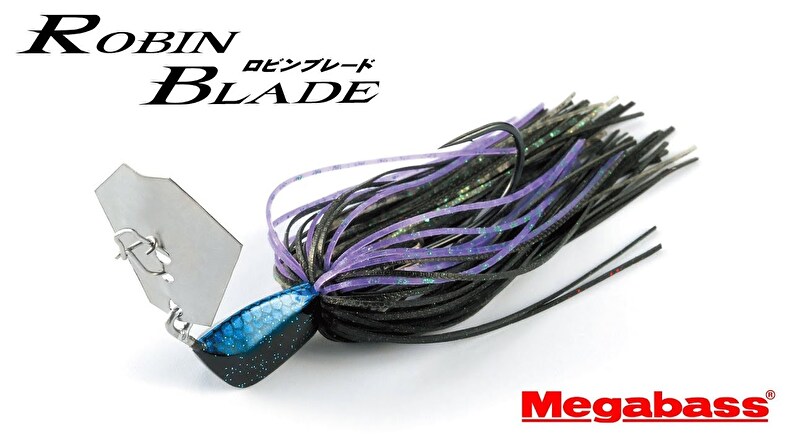 Klein in formaat, groot in vangkracht
Ik zou zeggen, probeer de Dark Sleeper eens uit, je zal niet teleurgesteld worden!
Tot volgende week!
Freek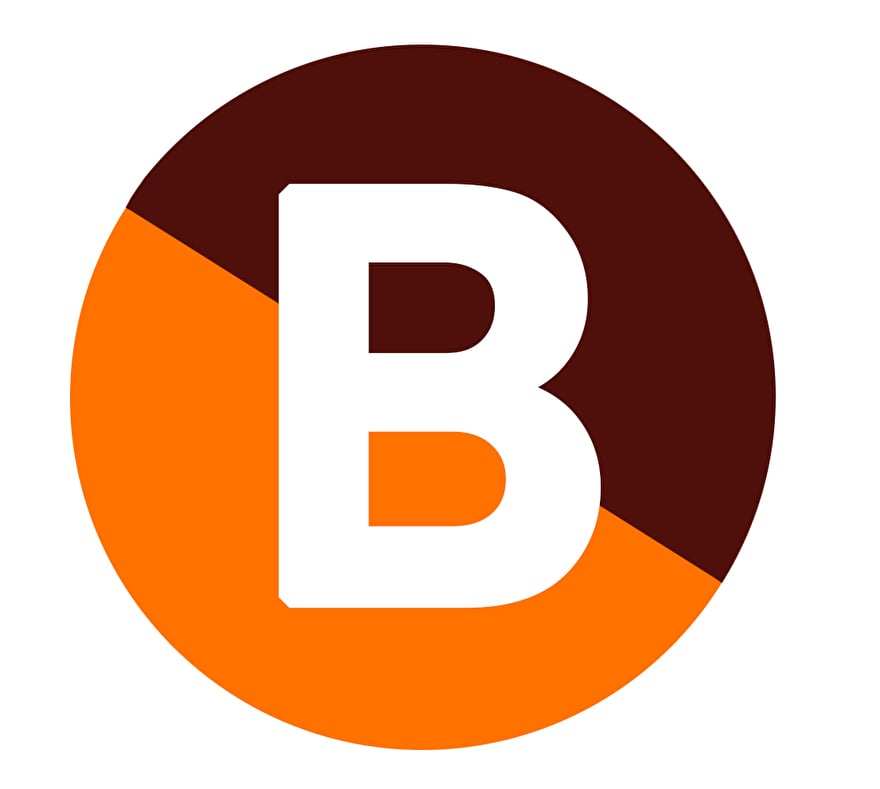 Don't Fish The Mainstream!
Instagram
Voor de dikste vangstfoto's volg je ons ook op Instagram: @baitnationnl